In our last analysis we mentioned that Gold was most probably back testing the break down area. Breaking below $1,490 was a bearish sign and we considered yesterday's bounce to $1,493 from $1,479 as a back test that would be followed by a rejection.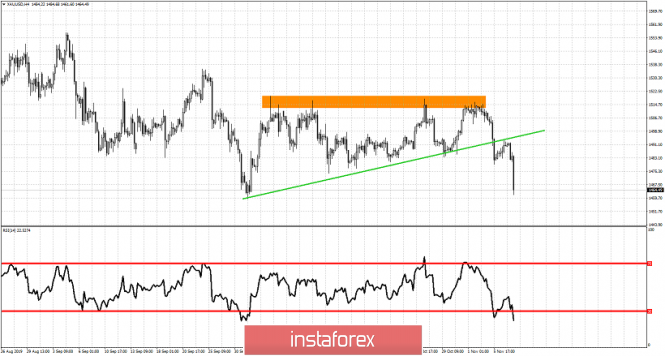 Orange rectangle -resistance
Green line - important trend line support now resistance
Gold price is making new lower lows. Trend remains bearish and so do we as long as price is below $1,520-25. I have said this many times. The fact that price has tested $1,525-20 several times and it did not break above it has a twofold meaning. First resistance is very important in that area. Second, this is a bearish sign. Inability to break resistance combined with a break below $1,500 were clear bearish signs. Breaking below the green trend line support confirmed our bearish view. Now that price back tested the trend line that it broke and got rejected, we see lower prices as we previously said. $1,460 was our first support area and we are now very close. Trend remains bearish as long as price is below $1,493 and I expect to see lower levels towards $1,440. The RSI provides confirmation for the new lows, so no warning signs from this oscillator.
The material has been provided by InstaForex Company -
www.instaforex.com

Fatal error: Uncaught Exception: 12: REST API is deprecated for versions v2.1 and higher (12) thrown in /var/www/forex-winner.com/htdocs/wp-content/plugins/seo-facebook-comments/facebook/base_facebook.php on line 1039