Gold price despite making a slightly higher high this week at $1,557, price reversed and closed below last week's low breaking below short-term support levels. The bearish divergence warning signs that we noted in previous posts together with one more new higher high come to life.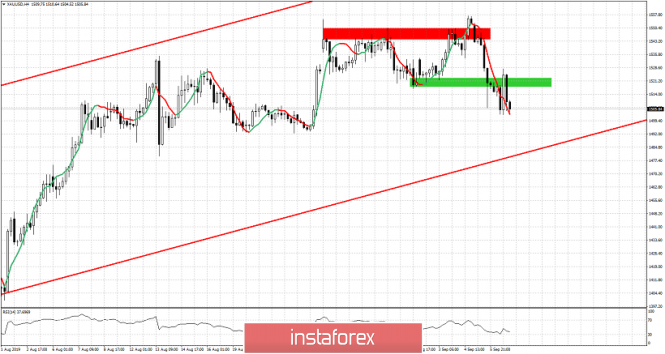 Red lines -medium-term bullish channel
Red rectangle - resistance
Green rectangle - support
Gold price initially moved above the red resistance area but it seems that was a false break out. The chances for this happening were high because we noted in previous posts that the bullish trend was weakening and each new higher high was followed by a divergent high by the RSI. Breaking below $1,533 was the confirmation of the false breakout. Price failed to hold above the green support area and is now moving lower. Our short-term target is the medium-term lower channel boundary near $1,480. Short-term trend is bearish. Support is at $1,490-$1,500 and breaking below this level will certainly push prices lower to test the channel support.
The material has been provided by InstaForex Company -
www.instaforex.com

Fatal error: Uncaught Exception: 12: REST API is deprecated for versions v2.1 and higher (12) thrown in /var/www/forex-winner.com/htdocs/wp-content/plugins/seo-facebook-comments/facebook/base_facebook.php on line 1039