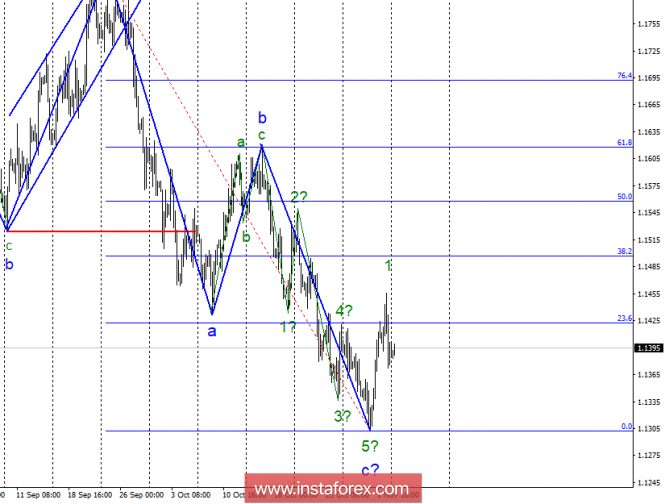 Wave counting analysis:
In the course of trading on Friday, the EUR / USD currency pair fell by 25 basis points. Thus, there is still every reason to assume the completion of the construction of wave c with a descending three wave structure. If this is true, then the increase in quotations will resume as part of the first waves of the new uptrend trend with targets located near the 38.2% and 50.0% of the Fibonacci levels. A successful attempt to break through the level of 0.0% will lead to the complication of the descending part of the trend, which takes its start on September 24.
The objectives for the option with sales:
1.1302 - 0.0% of Fibonacci
The objectives for the option with purchases:
1.1496 - 38.2% of Fibonacci
1.1557 - 50.0% of Fibonacci
General conclusions and trading recommendations:
The currency pair allegedly completed the construction of wave 5, c. Thus, now I recommend buying a pair with targets located near the estimated levels of 1.1496 and 1.1557, based on the construction of an upward set of waves. After a slight rollback down within the supposed correctional wave 2, I expect the resumption of the increase in quotations.
The material has been provided by InstaForex Company -
www.instaforex.com

Fatal error: Uncaught Exception: 12: REST API is deprecated for versions v2.1 and higher (12) thrown in /var/www/forex-winner.com/htdocs/wp-content/plugins/seo-facebook-comments/facebook/base_facebook.php on line 1039