USDJPY has broken below important short-term support and combined with the fact that bulls are unable to recapture three months in row the resistance area of 109.50-110, implies more downside should be expected as support levels fail to hold.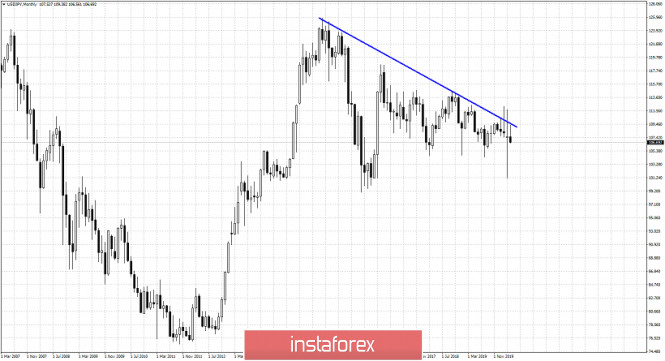 Blue line - monthly resistance trend line
April looks to end badly for USDJPY. Price got another rejection at the blue trend line resistance. Bulls continue to be unable to break above this resistance area. I expect the lower levels of March to be tested.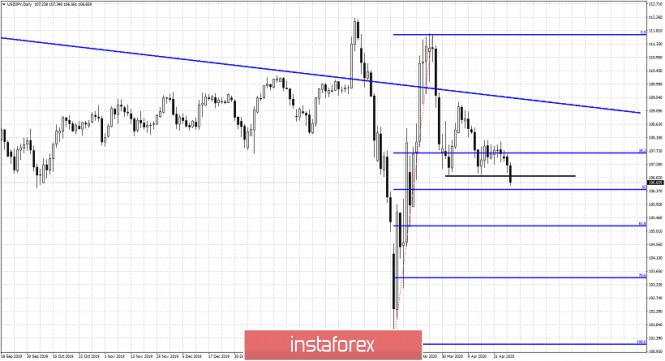 Black line -short-term support
USDJPY is breaking below the double bottom horizontal support level of 106.90. Price is expected to at least move towards the 61.8% Fibonacci retracement of the entire rise from 101 to 111.75. This short-term target is at 105.20. Breaking below this level will open the way for a move even lower towards 103.45. For now we focus on the bearish side as long as price is below 108.10.
The material has been provided by InstaForex Company -
www.instaforex.com

Fatal error: Uncaught Exception: 12: REST API is deprecated for versions v2.1 and higher (12) thrown in /var/www/forex-winner.com/htdocs/wp-content/plugins/seo-facebook-comments/facebook/base_facebook.php on line 1039