USD/JPY continues to show overbought signs as the buyers seem exhausted in the short term. However, we still need to wait for a confirmation before going short on this pair. The pair is moving sideways in the short term, pressuring the 111.36 static resistance, a rejection or a confirmed reversal pattern near this obstacle will signal a potential corrective phase.
The price stays higher as the JP225 index has rallied in the short term and the USDX is still located above the 101.08 critical support. A USDX's valid breakdown below the 101.08 level will signal a potential USD depreciation versus the major currencies.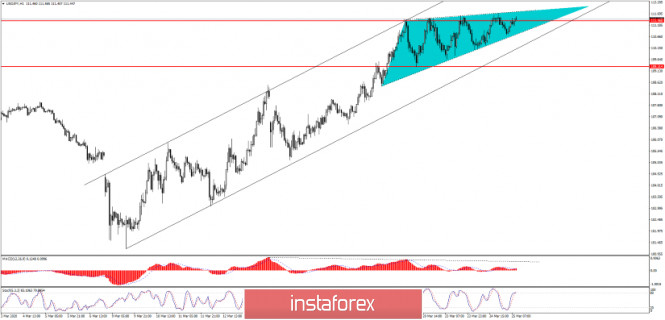 USD/JPY resumed the upside movement within the ascending channel after the Fed's stimulus measures to combat the COVID-19 economic damages. MACD signals a hidden divergence on the H4 chart and bearish divergence on the H1 trading chart, but only a valid breakdown from the Rising Wedge pattern and below the uptrend line will signal a corrective phase.
You should know that an upside breakout, above the rising wedge resistance, will invalidate a potential drop and it will confirm a further increase with a potential target at 112.22 high, or higher at the channel's upside line. When the price fails to drop after a bearish divergence, it is most likely to increase aggressively.
A valid breakdown from the Rising Wedge, confirmation, and below the uptrend line, channel's downside line will bring a great selling opportunity. However, only a valid breakdown below the 109.31 will really signal a larger correction on USD/JPY.
USD/JPY will resume the upside movement if it consolidates above the 111.36 and after a valid breakout above the chart pattern's upside line, resistance. If the Rising Wedge pattern is confirmed, USD/JPY could register an approx 290 pips drop.
The material has been provided by InstaForex Company -
www.instaforex.com

Fatal error: Uncaught Exception: 12: REST API is deprecated for versions v2.1 and higher (12) thrown in /var/www/forex-winner.com/htdocs/wp-content/plugins/seo-facebook-comments/facebook/base_facebook.php on line 1039