USDJPY managed to rise all the way to 106.11 last week but this week JPY is stronger and pushing price lower. Technically the rejection at 106 and reversal are a bearish sign. USDJPY could continue lower towards the major support area of 104.70-104.50.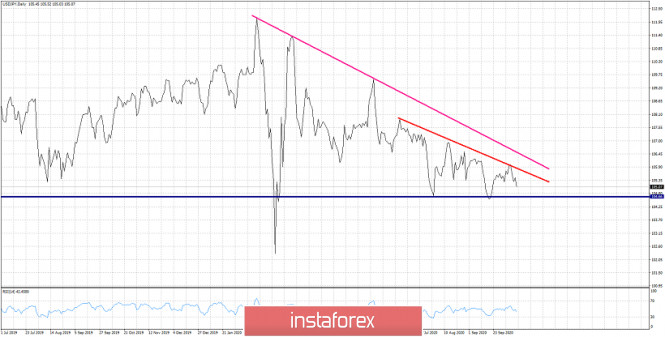 Blue line - support
Red line- resistance
Pink line - longer-term resistance
USDJPY got rejected at the first trend line resistance and is pulling back down. The chances of breaking eventually below 104.50 are high. Such a break down will put pressure on price and we could see a fast decline towards 103. This week's high at 105.80 is key resistance. A weekly close above this level will be a bullish sign for the following week.
The material has been provided by InstaForex Company -
www.instaforex.com

Fatal error: Uncaught Exception: 12: REST API is deprecated for versions v2.1 and higher (12) thrown in /var/www/forex-winner.com/htdocs/wp-content/plugins/seo-facebook-comments/facebook/base_facebook.php on line 1039