Bitcoin - 4 H.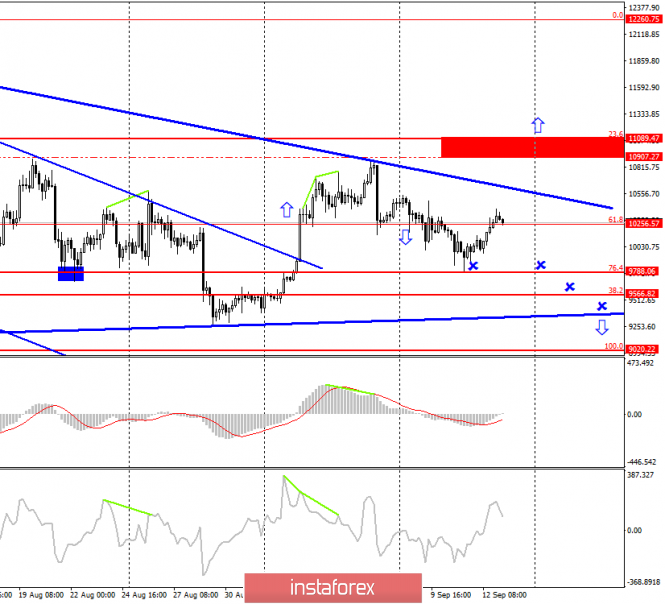 On September 12, Bitcoin continued the growth process after a rebound from the correctional level of 76.4% - $ 9,788 and returned to the upper region of the narrowing triangle, consolidating along the Fibo level of 61.8% - $ 10,256. Yesterday, the demand for was high yesterday thanks to the introduction of a number of incentive measures from the European Central Bank. The most important are the reduction in the deposit rate and the quantitative easing program (QE). Each month, the EU economy will receive 20 billion euros in the framework of the QE program, and banks will be forced to rid themselves of excess cash in their accounts, as they will have to pay more. All this is designed to increase the money supply in the European Union, which will stimulate increased spending among the population and inflation. This is good news for bitcoin, as it also potentially increases the demand for it. If citizens have more free money, then they can be invested in something, for example, in bitcoin. Also, according to some crypto experts, bitcoin is increasingly being used as a means to diversify risks by investors of all calibers, which also potentially increases the demand for cryptocurrency. It is not known what will happen in November, when the QE program will work, but bitcoin grew yesterday.
However, based on the current picture of the situation, it follows that the growth potential of BTC is still limited by the top line of the triangle and the area of $ 10,907 - $ 11,089. Thus, I recommend considering buying bitcoin in this way above this area.
At the same time, crypto-expert and one of the founders of Fundstrat Global Advisors Tom Lee said that the administration of Donald Trump could ban Bitcoin. Lee made this conclusion on the basis of the ban on some smoking mixtures for vape, referring to the increasing death among adolescents due to lung diseases. According to Lee, these arguments are not valid; accordingly, Trump can prohibit anything at will. Especially, Lee believes, if the BTC rate grows to $ 100,000 per coin. Earlier, Donald Trump has already spoken negatively about bitcoin and cryptocurrencies.
Summary:
Bitcoin grew yesterday, but the cryptocurrency market is still in a downward mood. I believe that the probability of a BTC reversal down today is extremely high. The fall may resume with the goals indicated by crosses in the picture.
The Fibo grid was built at the extremes of July 17, 2019 and August 6, 2019.
Bitcoin Forecast and recommendations for traders:
Bitcoin consolidated above the Fibo level of 61.8%. However, I recommend that you still consider sales with goals of $ 9,788 (76.4% Fibo), $ 9,566 (38.2% Fibonacci) and $ 9,400 (bottom line of the triangle). As a signal, I recommend waiting for the close below $ 10,256.
I do not recommend buying bitcoin right now, since cryptocurrency remains in a narrowing triangle, which implies a fall in prices.
The material has been provided by InstaForex Company -
www.instaforex.com

Fatal error: Uncaught Exception: 12: REST API is deprecated for versions v2.1 and higher (12) thrown in /var/www/forex-winner.com/htdocs/wp-content/plugins/seo-facebook-comments/facebook/base_facebook.php on line 1039