Trading formed an inverted V-shaped formation, from which the level of 1.2500 was reached. The variable upward move from the pivot point of 1.2246 returned the quotes to 1.2500, but failed to maintain it, making it a lever for short positions.
The inverted V-shaped formation is seen more clearly in the minutes charts, where the round of long positions had a time interval of 08: 00–12: 15 (London time), and the round of short positions came at the time of 12 : 30-21: 45 (London time). The fluctuation coincides up to an hour with the dynamics of the EUR / USD pair, which indicates that the engine was linked to the US dollar.
Meanwhile, in the "Head and Shoulders" pattern, which we have been conducting for the second week on the daily chart, the right shoulder is at a conditional peak, where the level of 1.2500 plays the role of resistance, on which the left shoulder was concentrated in due time.
Reversal of the movement conducted in March 23 to April 14 strengthens the prospects of a downward move, where the strongest signal is the price consolidation below 1.2150. Fluctuations in the time frames subtly hints the trend change.
A trend reversal reflects the resumption of an upward tact, but in this case, needs the quotes to go through the 1.2620 / 1.2650 area.
In terms of volatility, traders' activity for the past four days were the highest recorded, but is still below the average daily value. Nonetheless, the average figure is gradually recovering from the panic mood last month, which indicates that the 80-110 values will be considered as the norm soon, not a slowdown.
Details of volatility: Monday - 165 points; Tuesday - 245 points; Wednesday - 172 points; Thursday - 358 points; Friday - 359 points; Monday - 144 points; Tuesday - 271 points; Wednesday - 676 points; Thursday - 354 points; Friday - 522 points; Monday - 267 points; Tuesday - 296 points; Wednesday - 333 points; Thursday - 452 points; Friday - 352 points; Monday - 148 points; Tuesday - 227 points; Wednesday - 108 points; Thursday - 126 points; Friday - 198 points; Monday - 116 points; Tuesday - 217 points; Wednesday - 131 points; Thursday - 122 points; Friday - 42 points; Monday - 87 points; Tuesday - 146 points; Wednesday - 193 points; Thursday - 119 points; Friday - 114 points; Monday - 86 points; Tuesday - 198 points; Wednesday - 111 points; Thursday - 106 points; Friday - 78 points; Monday - 94 points; Tuesday - 113 points.
The previous review discussed local buy positions in the direction of the 1.2500 level, from which consolidations were made and reverse positions were put into effect.
Price fluctuations were observed in the daily chart, in the variable frames of 1.2250, 1.2500, and 1.2620. The process has been going on for about a month.
Yesterday's news, revealing a 1% decline in US wholesale stocks, surprised the market and favored the dollar, which strengthened during this period.
Gradual improvement in the global coronavirus situation is observed, but the consequences of quarantine measures awaits ahead. Thus, Laura Gardiner, Research Director of Resolution Foundation, believes that UK unemployment may hit 1980's figure, and reckons that the duration of the outbreak will last up to two years, and may even produce re-outbreaks, which will shed more damage to the economy. Impacts will include significant economic contraction, debt crisis, and departure from globalization.
With regards to Brexit, Europeans view existing negotiations as ineffective and deadlocked.
"We are at an impasse, there are many minor technical details where we could find a solution, but on fundamental issues, each side is trying to achieve its goals, and the differences are huge. This cannot be solved without political impulse, but it is absent, "said one of the European diplomats.
1st quarter preliminary estimates on US GDP will come out today, where an economic decline of 4.6% is expected (consensus 4.0%). Consequences of the quarantine measures will be reflected in the second quarter.
FOMC results will also come out today, where a rate change is not expected, but statements are still anticipated.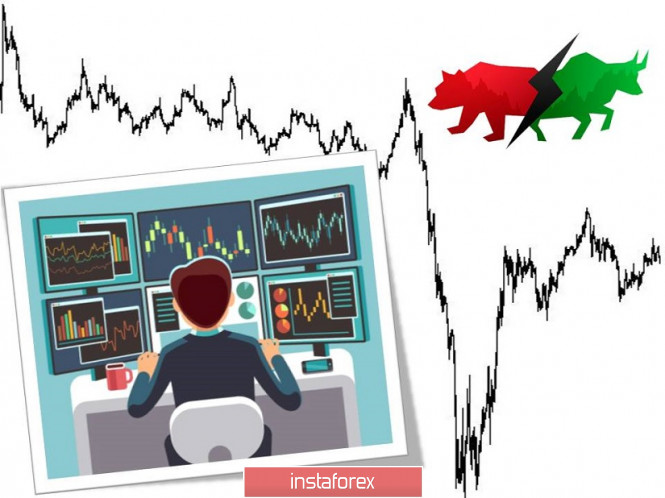 Further development
The current trading chart reflects the impressive activity of traders, from which quotes manage to make a V-shaped formation, although failing to reach the level of 1.2500. Concentration was at the variable basis of 1.2400 / 1.2415, which is an excellent sign for short positions, but sell signal will only come after price consolidation below the established area.
Trend reversal to bearish will occur at a formation of "Head and Shoulders" pattern, from which quotes will move lower than 1.2150.
Meanwhile, USD rally will be halted if today's preliminary US GDP data turns out to be weak. Nonetheless, investors continue trading the dollar due to the increased risk in the global economy.
Downward move will resume at price consolidation below 1.2390. Otherwise, the course will continue to 1.2400 / 1.2500.
Based on the above information, we derived these trading recommendations:
- Selling positions lower than 1.2390, towards 1.2350–1.2300.
- Buy positions from the value of 1.2445, towards 1.2500.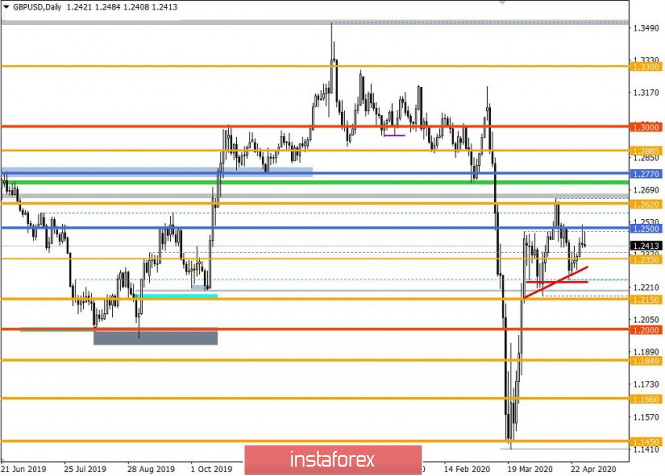 Indicator analysis
Hourly charts indicate bullish mood, while daily charts signal bearish. Minute time frames, meanwhile, reflect a V-shaped oscillation.
Volatility per week / Measurement of volatility: Month; Quarter year
Volatility measurement reflects the average daily fluctuation, calculated per Month / Quarter / Year.
(April 29 was built, taking into account the time of publication of the article)
Current volatility is 76 points, which is 43% below the daily average. Volatility may accelerate at the break of the 1.2400 / 1.2500 range.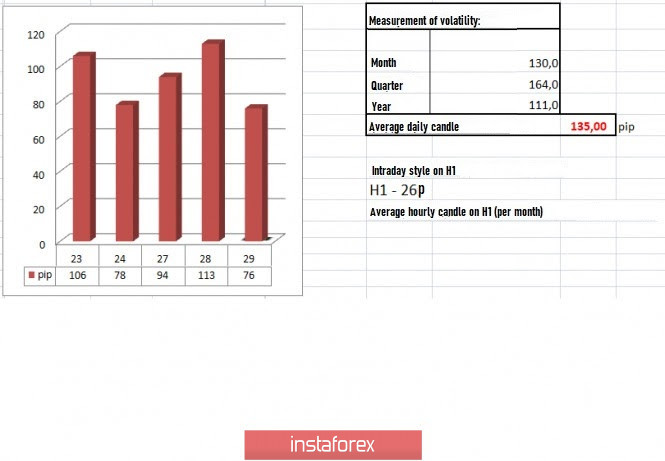 Key levels
Resistance Zones: 1.2500; 1.2620; 1.2725 *; 1.2770 **; 1.2885 *; 1.3000; 1.3170 **; 1.3300 **; 1.3600; 1.3850; 1.4000 ***; 1.4350 **.
Support areas: 1.2350 **; 1.2250; 1.2150 **; 1.2000 *** (1.1957); 1.1850; 1.1660; 1.1450 (1.1411); 1.1300; 1,1000; 1,0800; 1,0500; 1,0000.
* Periodic level
** Range Level
*** Psychological level
**** The article is built based on the principle of conducting transactions, with daily adjustments
The material has been provided by InstaForex Company -
www.instaforex.com

Fatal error: Uncaught Exception: 12: REST API is deprecated for versions v2.1 and higher (12) thrown in /var/www/forex-winner.com/htdocs/wp-content/plugins/seo-facebook-comments/facebook/base_facebook.php on line 1039