To open long positions on GBP / USD pair, you need:
The report on a sharp decline in manufacturing activity in the UK put pressure on the British pound. Furthermore, the breakthrough of quite important support levels led to the triggering of stop orders of buyers and a larger downward movement of the pound. Currently, buyers have managed to stop the decline in the GBP/USD pair in the support area of 1.2065, but it is too early to talk about a larger upward correction. While trading is conducted above the range of 1.2065, albeit, the chance to strengthen the pound remains very small. However, it is best to rely on larger long positions after updating the lows of 1.2018 and 1.1985. The main objective of the bulls is to close the day above the resistance of 1.2107, from which the growth of the pound may remain until the maximum of 1.2143 is updated, where I recommend taking profits.
To open short positions on GBP / USD pair, you need:
The pressure of Boris Johnson on conservative deputies of his party, who supports an attempt to block Britain's exit from the EU without an agreement, and weak fundamental data continues to put pressure on the pound. The breakout of the support at 1.2143 has expectedly led to a major sell-off of the pound, which I paid attention to in my morning review. At the moment, the bears need a second test of a minimum of 1.2065, which will resume pressure on the GBP/USD pair and will lead to an update of levels 1.2018 and 1.1985. However, the only thing that keeps the pound from a larger fall is so far a day off in the US and Canadian markets in connection with the celebration of Labor Day, which will significantly reduce trading volumes. In an upward correction scenario, it is best to consider short positions in a pound after a false breakdown of resistance 1.2107 or on a rebound from a maximum of 1.2143.
Signals of indicators:
Moving averages
Trade is conducted below 30 and 50 moving averages, which indicates a return of the sellers to the market.
Bollinger bands
In the case of pound growth, the upward potential will be limited by the average border of the indicator in the region of 1.2145.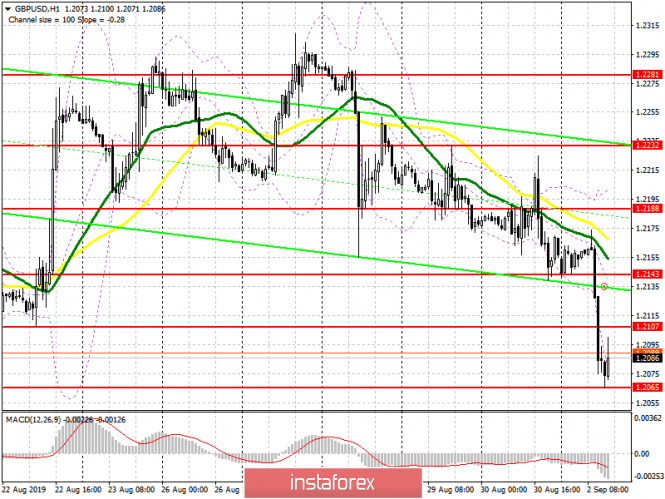 Description of indicators
MA (moving average) 50 days - yellow
MA (moving average) 30 days - green
MACD: Fast EMA 12, Slow EMA 26, SMA 9
Bollinger Bands 20
The material has been provided by InstaForex Company -
www.instaforex.com

Fatal error: Uncaught Exception: 12: REST API is deprecated for versions v2.1 and higher (12) thrown in /var/www/forex-winner.com/htdocs/wp-content/plugins/seo-facebook-comments/facebook/base_facebook.php on line 1039