Gold price as expected has reached the lower boundary of the medium-term bullish channel. Price is now shows signs of a reversal and that support is being respected. This could lead even to new 2019 highs.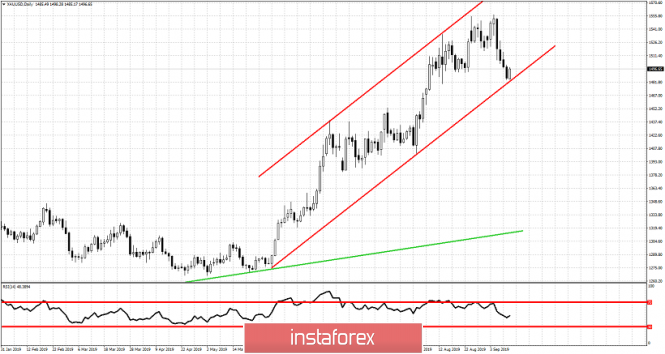 Red lines - bullish channel
Green line - major trend line support
Gold price has reached $1,484 and has started to bounce. Respecting the channel could lead to a new move higher so bulls need to start seeing higher highs and higher lows. Gold price should stay above $1,484 in order for the move higher to be confirmed. Breaking below $1,484 would be a sign of weakness.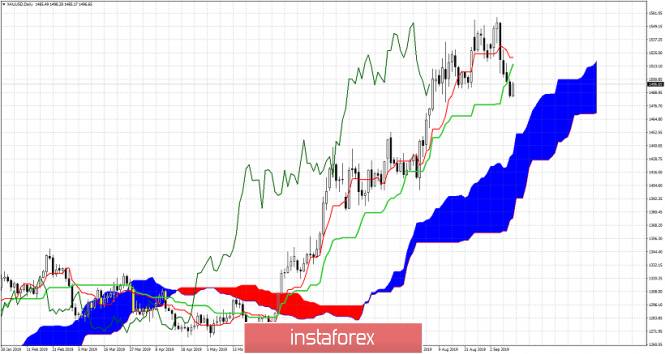 Gold price is above the Daily Kumo. Trend remains bullish. Although price has broken below both the tenkan- and kijun-sen indicators, the Chikou span remains above the price. Resistance is at $1,520. A daily close above it would be a sign of strength. This would increase the chances of breaking to new higher highs. The longer price stays below $1,520, the higher the chances of moving lower towards cloud support.The material has been provided by InstaForex Company -
www.instaforex.com

Fatal error: Uncaught Exception: 12: REST API is deprecated for versions v2.1 and higher (12) thrown in /var/www/forex-winner.com/htdocs/wp-content/plugins/seo-facebook-comments/facebook/base_facebook.php on line 1039