In a previous analysis back in August 20th we mentioned that we expect price to eventually break the resistance area around 98 and move towards 99-99.20 level. Today's high is at 99.07 and the weekly RSI continues to diverge.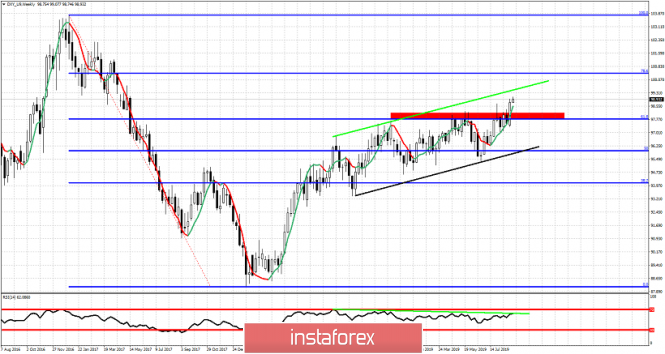 Green line - bearish divergence
Black line - major support trend line
Red rectangle - resistance (broken)
The Dollar index has broken above a multi month resistance area where prices got rejected several times. This time the break is real and prices move towards 99 as expected. Trend remains bullish and the break above the 61.8% Fibonacci retracement is a big win for bulls. As long as price is above 98-97.70 bulls remain in control of the trend. The weekly RSI is testing important resistance area. The RSI does not confirm the new high by price. Traders should not ignore this bearish divergence. This is not a reversal signal but only a warning.
The material has been provided by InstaForex Company -
www.instaforex.com

Fatal error: Uncaught Exception: 12: REST API is deprecated for versions v2.1 and higher (12) thrown in /var/www/forex-winner.com/htdocs/wp-content/plugins/seo-facebook-comments/facebook/base_facebook.php on line 1039