EUR / USD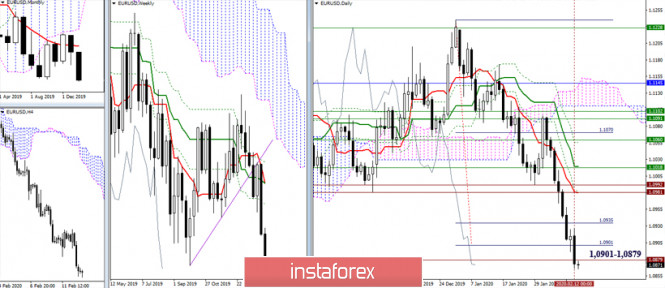 Slowing down was insignificant. The players to decrease continue to decline and thus far, they have managed to update the monthly minimum extremum (1.0879). The main bearish task now is to restore the downward trend. The current area of support and attraction in this situation is 1.0901 (100% level of the daily target) and 1.0879 (minimum extremum). On the other hand, reliable consolidation below will be able to strengthen the position of the bears and simplify their task of further reduction, but this is the most optimistic option. The strength of the levels encountered will most likely still force players to take a pause on this section.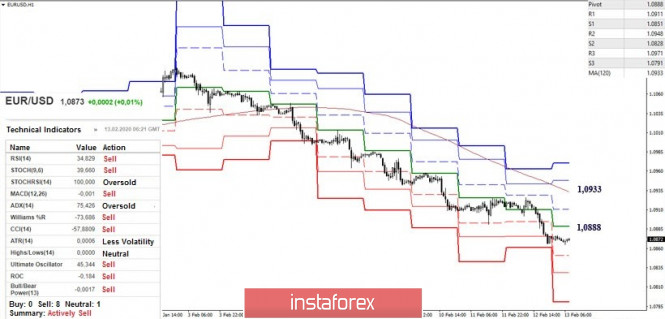 At the moment, all the advantages and support of the analyzed technical tools in the lower halves are completely on the downside of the players. With the continuation of the downward trend, the classic Pivot levels S1 (1,0851) - S2 (1,0828) - S3 (1,0791) can act as supports within the day. The first important resistance in the case of an upward correction is the central Pivot level of the day (1.0888). Now, consolidating above will contribute to the development of correction, and the next significant reference will be the weekly long-term trend, which is now located at the level of 1.0933.
GBP / USD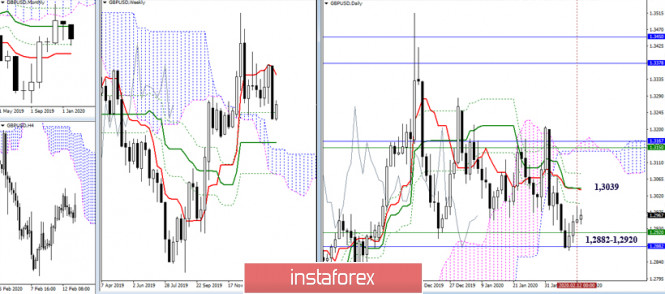 The slowdown at the lower boundary of the consolidation zone 1.2882 - 1.2920 (Fibo Kijun of the week and month) was developed and increased into another upward correction. Moreover, the reference point for the correction and the center of the consolidation zone in this situation is the daily cross of Ichimoku, which has now united its main levels (Tenkan and Kijun) in the region of 1.3039.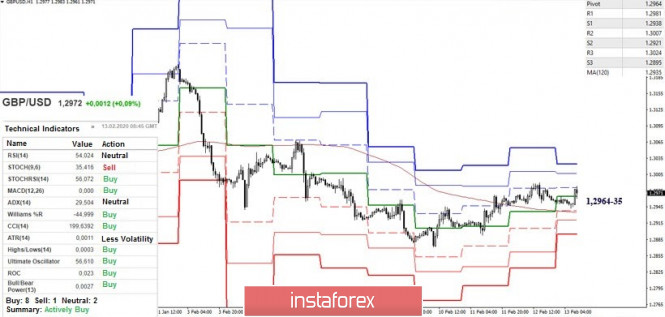 In the lower halves, they are currently trying to gain a foothold above key levels. The development on the support zone 1.2964-35 (central Pivot level + weekly long-term trend) and the reversal of moving can help players further increase and complete a full upward correction to the daily short-term trend (1.3039). The loss of this support zone may return the bearish sentiment and mark the completion of the current rise. On the other hand, the next intraday supports are S2 (1.2921) and S3 (1.2895), while the main task for the players on the decline will be to exit the correction zone (1.2871) and overcome the high halves support.
Ichimoku Kinko Hyo (9.26.52), Pivot Points (classic), Moving Average (120)
The material has been provided by InstaForex Company -
www.instaforex.com

Fatal error: Uncaught Exception: 12: REST API is deprecated for versions v2.1 and higher (12) thrown in /var/www/forex-winner.com/htdocs/wp-content/plugins/seo-facebook-comments/facebook/base_facebook.php on line 1039