Economic calendar (Universal time)
Despite the fairly extensive block of statistics from the Eurozone, publication of important indicators is not expected today. Thus, you can only pay attention to changes in crude oil reserves in the USA (15:30).
EUR / USD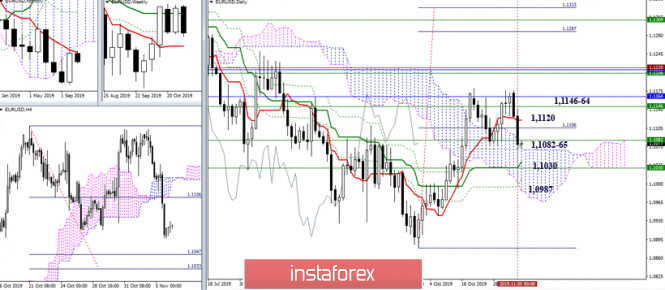 Yesterday, players on the rise continued to lose ground. As a result, the pair went down to the support association area 1.1082-65 (daily cloud + weekly Fibo Kijun). Overcoming supports and consolidation in the daily cloud will make its lower boundary, and now it is 1.0987, the main reference point. It should be noted that in the cloud in this situation, there are several quite significant support levels at once - the final boundaries of the daily gold cross (Kijun 1.1042 - Fibo Kijun 1.1009), weekly short-term trend (1.1030) and the target for breakdown of the cloud H4 (1.1047-33). Any of these supports, as well as those currently working 1.1082-65, can delay the development of the situation and provoke the formation of rebound. In the case of rebound formation, the resistance will be the levels passed the day before.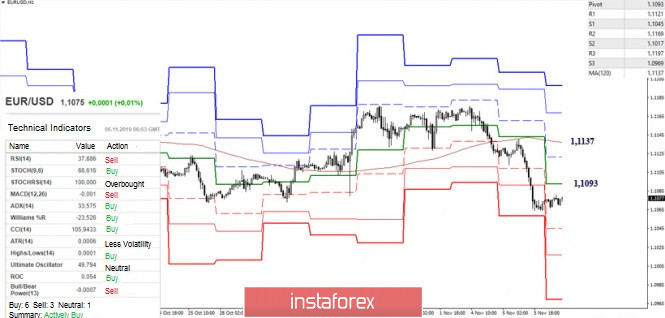 And although the upward correction on H1 has already managed to enlist the support of technical indicators, it is too early to talk about the obvious advantages and opportunities of the bulls. In addition, resistance levels that can affect the change in the current balance of forces are located at 1.1093 (central Pivot level) - 1.1137 (weekly long-term trend). The completion of the correction and the continuation of the decline will make the classic pivot levels (1.1045 S1 - 1.1017 S2 - 1,0969 S3) to actual support within the day again.
GBP / USD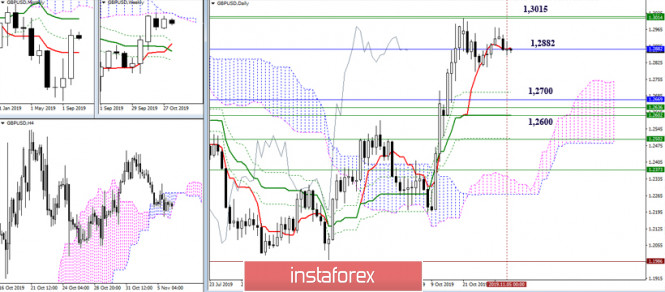 The pound seemed to stand still. Neither bulls nor bears are allowed to roam. The uncertainty on the daily chart begins to resemble a triangle, so the discharge of such a situation may look like a shot. Either the bulls will actively and overcome the weekly cloud in its narrowest place (1.305) on a large scale, or the bears will quickly roll off the hill, realizing a rather deep weekly downward correction (support area 1.2700 - 1.2600). At the moment, both buyers and sellers retain the chances of implementing their plans.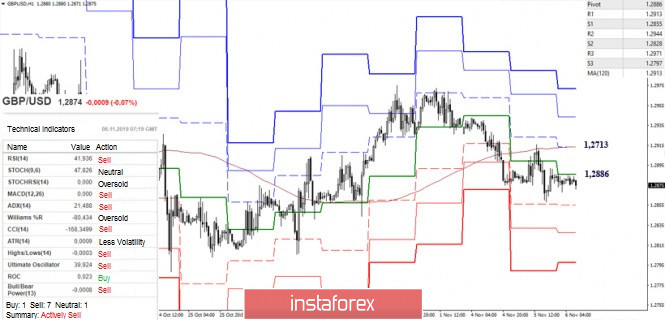 Yesterday, the combination of key resistance on H1 coped with the task and delayed the development of the upward correction, the minimum was updated. Today in the lower halves, we observe an upward correction again. The key resistances of the central Pivot level (1.2886) and the weekly long-term trend (1.2913) are on the way to recovering bullish sentiment again. Consolidating above will allow us to consider the continuation of the rise, the significant stages of which will be the update of the highs (1.2975 - 1.3012). On the other hand, if the current decline in support continues, the classic pivot levels of 1.2855 (S1) - 1.2828 (S2) - 1.2797 (S3) can provide support.
Ichimoku Kinko Hyo (9.26.52), Pivot Points ( classic ), Moving Average (120)
The material has been provided by InstaForex Company -
www.instaforex.com

Fatal error: Uncaught Exception: 12: REST API is deprecated for versions v2.1 and higher (12) thrown in /var/www/forex-winner.com/htdocs/wp-content/plugins/seo-facebook-comments/facebook/base_facebook.php on line 1039