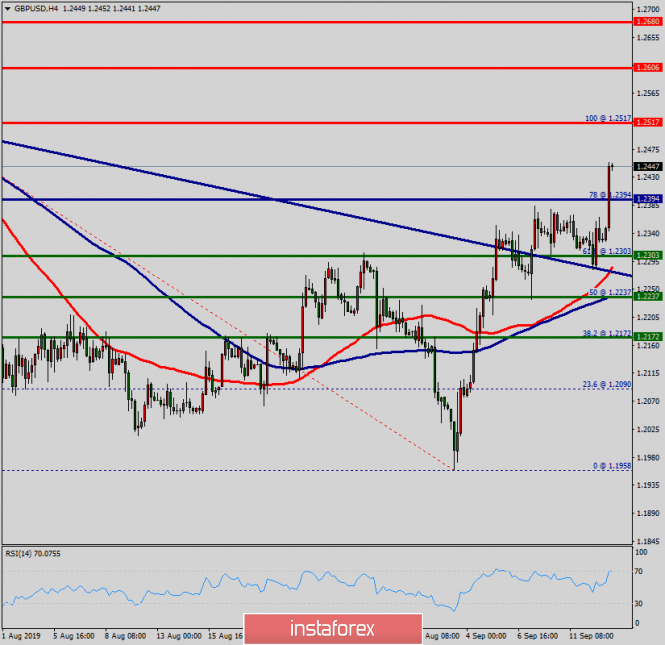 Overview:
The GBP/USD pair (British Pound / US Dollar) continues to strengthen from the area of 1.2303 and 1.2394 in the 4-hour time frame.
The price spot of 1.2303 and 1.2394 remains a significant support zone. Therefore, the possibility that the Cable will have an upside momentum is rather convincing and the structure of the fall does not look corrective.
The expected trading range for today is between 1.2394 support and 1.2606 resistance.
Additionally, the RSI is still calling for a strong bullish market as well as the bullish outlook remains the same, as long as the 100 EMA is pointing to the upside.
It should be noted that breaking 1.2394 resistance will press on the price to return to the main bullish channel and attain posistive targets that begin at 1.2517 and extend to 1.2606.
It is equally important that it will call for uptrend in order to continue bullish trend towards 1.2606. However, the stop loss should be located above the level of 1.2303. But overall we still prefer a bullish scenario at this phase
The material has been provided by InstaForex Company -
www.instaforex.com

Fatal error: Uncaught Exception: 12: REST API is deprecated for versions v2.1 and higher (12) thrown in /var/www/forex-winner.com/htdocs/wp-content/plugins/seo-facebook-comments/facebook/base_facebook.php on line 1039