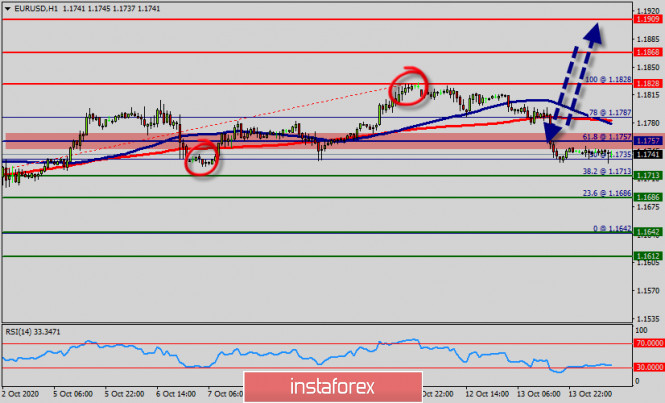 Overview :
The EUR/USD pair sets on major support right now for that we remain bullish. Price is starting to bounce nicely off our major support area starting from 1.1740. The EUR/USD pair moved higher and closed the day in positive area around the 1.1740-1.1757 levels. The EUR/USD pair will probably continue to rise from the level of 1.1740-1.1757 in the long term. It should be noted that the support is established at the level of 1.1757 which represents the 61.8% Fibonacci retracement level on the H1 chart.
The price (1.1757) is likely to form a double bottom in the same time frame. Accordingly, the EUR/USD pair is showing signs of strength following a breakout of the highest level of 1.1740-1.1757. We expect to see a strong reaction off this level to push price up towards 1.1828 before 1.1757 support. RSI (14) sees a bullish way out of our ascending support-turned-resistance line signalling that we'll likely be seeing some bearish momentum between the levels of 1.1828 - 1.1757. This suggests the pair will possibly go up in coming hours.
A daily closure above .1828 allows the pair to make a quick bullish movement towards the next resistance level around 1.1868. However, traders should watch for any signs of bearish rejection that occur around 1.1828 - 1.1755. The pivot point stands at 1.1755. The pair is trading above its pivot point. It is likely to trade in a higher range as long as it remains above the pivot point. Long positions are recommended with the first target at 1.1868. A break of that target will move the pair further downwards to 1.1909. Today, the price is in a bearish channel now as long as the trend is still set above the spot of 1.1755. Amid the previous events, the pair is still in an uptrend.
The EUR/USD pair is continuing in a bullish trend from the new support of 1.1755. Buy above the level of 1.1757 with the first target at 1.1868 in order to test the daily resistance 1 and further to 1.1909. Also, it might be noted that the level of 1.1909 is a good place to take profit because it will form a new double top. On the other hand, in case a reversal takes place and the EUR/USD pair breaks through the support level of 1.1757, a further decline to 1.1642 can occur which would indicate a bearish market.
The material has been provided by InstaForex Company -
www.instaforex.com

Fatal error: Uncaught Exception: 12: REST API is deprecated for versions v2.1 and higher (12) thrown in /var/www/forex-winner.com/htdocs/wp-content/plugins/seo-facebook-comments/facebook/base_facebook.php on line 1039