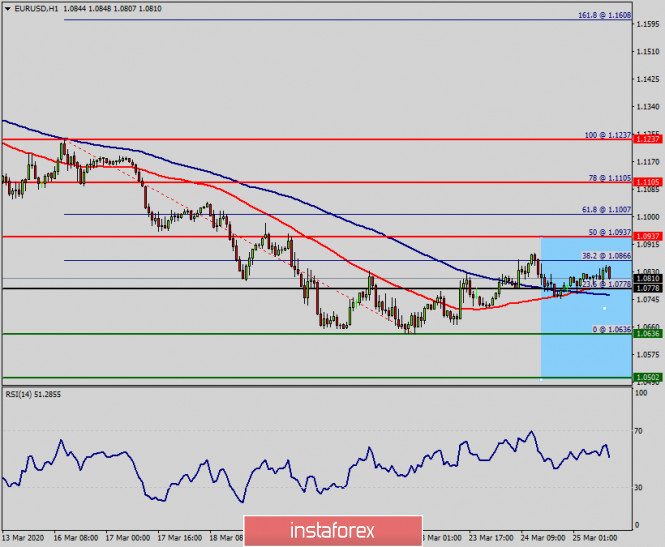 Overview:
The EUR/USD pair plunges to its lowest level in over 4 years until reached the 1.0636 price last week.
Nowadays, the EUR/USD pair dropped below 1.0800 because of the fear of Coronavirus' effect on currencies.
It is currently trading at 1.0843, a fall of almost 1.15% in just one day. So, the euro traded broadly lower in the previous session following a mixed bag of data.
We guess that The EUR/USD pair outlook bearish as EU governments initiate lockdowns.
Really, The Euro may continue to slide against the US Dollar if the spread and impact of the coronavirus continues to lower the growth outlook.
Overall we still prefer a bearish scenario at this phase as long as the price is still setting below the spot of 1.1105-1.1050.
The bias remains bearish in nearest term testing 1.0937 – 1.1050. Immediate resistance is seen around 1.0937.
Amid the previous events, the pair is still in a downtrend, because the EUR/USD pair is trading in a bearish trend from the new resistance line of 1.0937 towards the first support level at 1.0778 in order to test it.
If the pair succeeds to pass through the level of 1.0778, the market will indicate a bearish opportunity below the level of 1.0778.
Additionally, the RSI starts signaling a downward trend. As a result, if the EUR/USD pair is able to break out the first support at 1.0778, the market will decline further to 1.0636 in order to test the weekly support 2.
Consequently, the market is likely to show signs of a bearish trend. So, it will be good to sell below the level of 1.0778 with the first target at 1.0636 and further to 1.0502 in coming days.
However, if a breakout happens at the resistance level of 1.1105, then this scenario may be invalidated.
The material has been provided by InstaForex Company -
www.instaforex.com

Fatal error: Uncaught Exception: 12: REST API is deprecated for versions v2.1 and higher (12) thrown in /var/www/forex-winner.com/htdocs/wp-content/plugins/seo-facebook-comments/facebook/base_facebook.php on line 1039