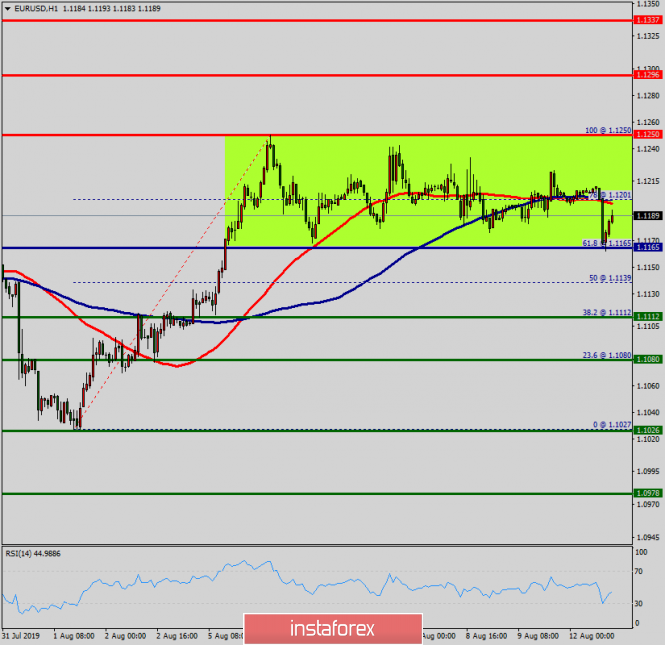 Overview:
The EUR/USD pair hit the daily pivot point (1.1112) and resistance 1, because of the series of relatively equal highs and equal lows.
Yesterday, the EUR/USD pair continued to move upwards from the level of 1.1112. The pair rose from the level of 1.1112 to the top around 1.1250.
But the pair has rebounded from the top of 1.1250 to close at 1.1190.
The EUR/USD pair faced resistance at the level of 1.1296, while minor resistance is seen at 1.1250. Support is found at the levels of 1.1165 and 1.1112.
The RSI is still calling for a strong bullish market as well as the current price is also above the moving average 100.
Therefore, it will be advantageous to buy above the support area of 1.1165 which represents the daily pivot point.
The market is still in an uptrend. We still prefer the bullish scenario as long as the priceis still set above the area of 1.1112.
Trading recommandations:
The EUR/USD pair is showing signs of strength following a breakout of the highest level of 1.1165. So, buy above the level of 1.1165 with the first target at 1.1250 in order to test the daily resistance 1. The level of 1.1296 is a good place to take profits today. On the other hand, if a breakout happens at the support level of 1.1112, then this scenario may be invalidated.
The material has been provided by InstaForex Company -
www.instaforex.com

Fatal error: Uncaught Exception: 12: REST API is deprecated for versions v2.1 and higher (12) thrown in /var/www/forex-winner.com/htdocs/wp-content/plugins/seo-facebook-comments/facebook/base_facebook.php on line 1039