Crypto Industry News:
The Hong Kong regulatory authority, the Securities and Futures Commission (SFC), has officially issued regulations for cryptographic fund managers. The SFC has published a regulatory circular on its website.
The document entitled "Proforma Terms and Conditions for licensed corporations that manage portfolios investing in virtual assets" has 37 pages. According to this document, Hong Kong Virtual Asset Fund managers should always maintain liquid capital of at least Hong Kong 3 million ($ 383,000) and its variable required liquid capital.
SFC advised managers to have sufficient human and technical resources to properly perform their duties, and adopted risk and compliance management policies as well as anti-money laundering and anti-terrorist financing policies.
To ensure the security of fund assets, SFC also requires cryptographic fund managers to appoint a functionally independent trustee. The regulator emphasized that the manager of the virtual asset fund should ensure that the fund's assets are separated from its own assets as well as the assets of other clients unless the fund's assets are kept on the client's omnibus account.
If the manager receives the fiat currency on behalf of the fund, one or more separate bank accounts must be created to hold clients' money, SFC said. Bank accounts should be opened and maintained with an authorized financial institution in Hong Kong or a bank in a jurisdiction agreed by the SFC, as indicated in the document.
In addition, the virtual asset fund manager should assess the features of a diverse trustee system, including hardware and software infrastructure, security controls for key generation, storage, management, and transactions, as well as the process of handling Blockchain forks, the agency said.
Technical Market Overview:
The ETH/USD pair has moved higher towards the technical resistance located at the level of $185.05 again, but the wave is clearly corrective in the structure. The recent low was made at the level of $166.08, just above the local technical support located at the level of $163.98 - $162.50 and if the momentum will increase on the way up, then the next target for bulls is seen at the level of $187.37 and 195.88. Any violation of support located at the level of $166.08 will open the road towards the key technical support located at the level of $151.30.
Weekly Pivot Points:
WR3 - $200.05
WR2 - $192.33
WR1 - $180.15
Weekly Pivot - $172.02
WS1 - $159.46
WS2 - $151.65
WS3 - $138.64
Trading recommendations:
The best strategy in the current market conditions is to trade with the larger timeframe trend, which is still up. All the shorter timeframe moves are still being treated as a counter-trend correction inside of the uptrend. When the wave 2 corrective cycles are completed, the market might will ready for another impulsive wave up of a higher degree and uptrend continuation.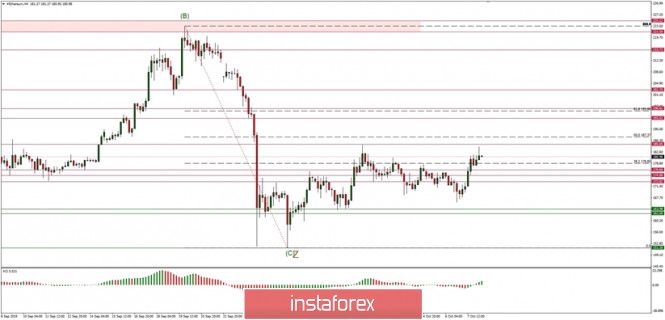 The material has been provided by InstaForex Company -
www.instaforex.com

Fatal error: Uncaught Exception: 12: REST API is deprecated for versions v2.1 and higher (12) thrown in /var/www/forex-winner.com/htdocs/wp-content/plugins/seo-facebook-comments/facebook/base_facebook.php on line 1039