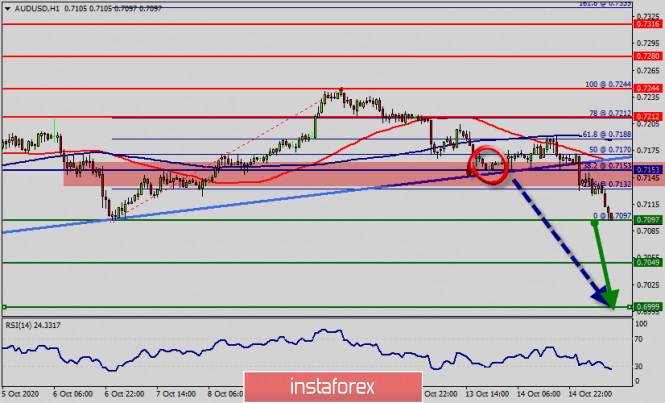 Overview :
The AUD/USD pair has dropped sharply from the 0.7153 level towards 0.7097. The level of 0.7153 acts as a daily pivot point.
The pair is trading below its pivot point. It is likely to trade in a lower range as long as it remains below the pivot point. Short positions are recommended with the first target at 0.7097. A break of that target will move the pair further downwards to 0.7049. The pivot point stands at 0.7153.
It should be noted that the volatility is very high for that the price of the AUD/USD pair is still moving between 0.7153 and 0.6999 in the coming hours.
Furthermore, the price has set below the strong resistance at the levels of 0.7153 and 0.7188 which coincide with the 38.2% and 61.8% Fibonacci retracement levels respectively.
Additionally, currently the price is in a bearish channel. According to the previous events, the pair is still in a downtrend. From this point, the AUD/USD pair is continuing in a bearish trend from the new resistance of 0.7153.
Thereupon, the price spot of 0.7153 and 0.7188 remains a significant resistance zone.
Therefore, the possibility that the Aussie will have a downside momentum is rather convincing and the structure of the fall does not look corrective.
In order to indicate a bearish opportunity below 0.7097, it will be a good signal to sell below 0.7097 with the first target of 0.7040. It is equally important that it will call for downtrend in order to continue bearish trend towards 0.6999.
On the contrary, stop loss should be placed at the price of 0.7212 (above the daily resistance). The bullish outlook remains the same as long as the RSI indicator is pointing to the upside on the one-hour chart. Hence, the stop loss should be located above the level of 0.7212.
The material has been provided by InstaForex Company -
www.instaforex.com

Fatal error: Uncaught Exception: 12: REST API is deprecated for versions v2.1 and higher (12) thrown in /var/www/forex-winner.com/htdocs/wp-content/plugins/seo-facebook-comments/facebook/base_facebook.php on line 1039