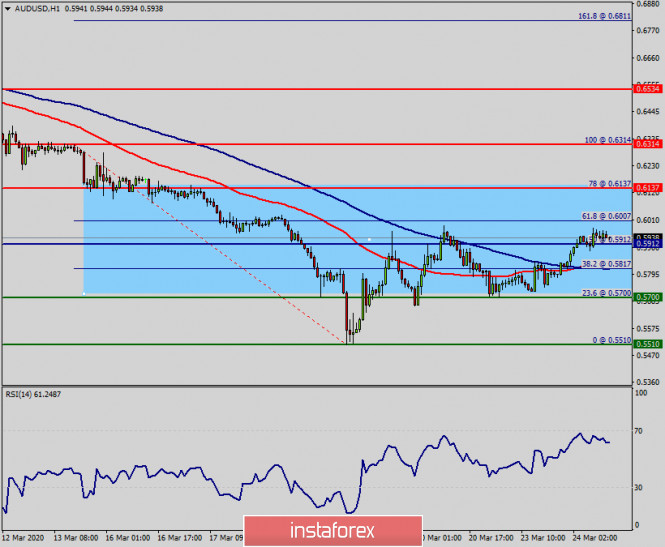 Overview:
A general rebound in risk sentiment surrounding the coronavirus-scare added to demand for the Aussie. So, the AUD/USD pair rebounded from the bottom level of 0.5510 to set around the area of 0.5817 - 0.6137.
For the time being, the economic calendar provides some data, albeit partial which show the weakness.
The Coronavirus (COVID-19) surely will imapct on the AUD/USD pair sooner, because the new Coronavirus (COVID-19), which is rapidly spreading around the world.
Hence, we noted that uncertainty and fear about the coronavirus pandemic has driven the Australian dollar over 18-year lows below 59 cents.
Currently price set at the price of 0.5912.
Technically:
The AUD/USD pair dropped sharply from the level of 0.6137 towards 0.5510. Now, the price is set at 0.5912 to act as a daily pivot point. It should be noted that volatility is very high for that the AUD/USD pair is still moving between 0.6007 and 0.5700 in coming hours. Furthermore, the price has been set below the strong resistance at the levels of 0.6007 and 0.6137, which coincides with the 61.8% and 78% Fibonacci retracement level respectively. Additionally, the price is in a bearish channel now. Amid the previous events, the pair is still in a downtrend. From this point, the AUD/USD pair is continuing in a bearish trend from the new resistance of 0.5912. Thereupon, the price spot of 0.5912 remains a significant resistance zone. Therefore, a possibility that the AUD/USD pair will have downside momentum is rather convincing and the structure of a fall does not look corrective. In order to indicate a bearish opportunity below 0.5912, sell below 1.59125 with the first targets at 0.5817 and 0.5700 (the double bottom is seen at 0.5510).
The material has been provided by InstaForex Company -
www.instaforex.com

Fatal error: Uncaught Exception: 12: REST API is deprecated for versions v2.1 and higher (12) thrown in /var/www/forex-winner.com/htdocs/wp-content/plugins/seo-facebook-comments/facebook/base_facebook.php on line 1039