GBP/USD
Analysis:
The direction of the short-term trend of the British pound is set by the descending wave algorithm from December 13. From the beginning of January, the final part (C) started and the price is within the strong support. Moreover, an intermediate pullback is necessary before a further breakdown. Its structure has an incorrect appearance and now looks complete.
Forecast:
At the time of analysis, the price reached the preliminary zone of completion of the growth. Next, it is expected to form a reversal and start the price move down. In addition, the active phase of decline is possible by the end of the day or tomorrow.
Potential reversal zones
Resistance:
- 1.2970/1.3000
Support:
- 1.2900/1.2870
- 1.2780/1.2750
Recommendations:
Purchases of the pound today is hopeless. In the coming day, we recommend that you focus on searching for signals in the sale of the British currency.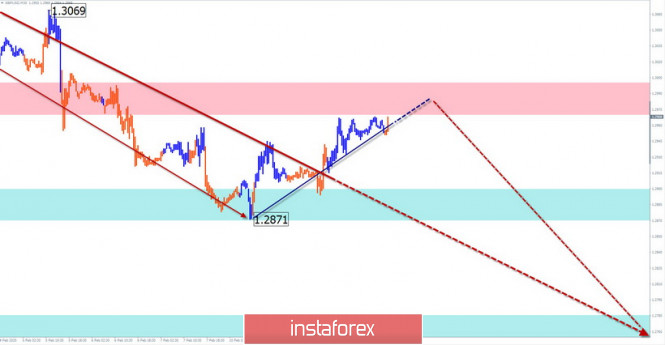 USD/JPY
Analysis:
On January 8, an upward wave started on the Japanese yen chart. It completes a larger ascending wave structure. The structure of the wave shows a zigzag. Its final part started on February 3 and the price has been within the strong resistance since the middle of last week, forming an intermediate correction.
Forecast:
Today, the flat nature of the pair's movement is expected to continue. In the first half of the day, a decrease is possible, no further than the calculated support. By the end of the day, we should expect an increase in volatility and the beginning of price growth.
Potential reversal zones
Resistance:
- 110.20/110.50
Support:
- 109.60/109.30
Recommendations:
Trading on the yen market today is possible only within the framework of an intraday strategy. Tool purchases are more promising.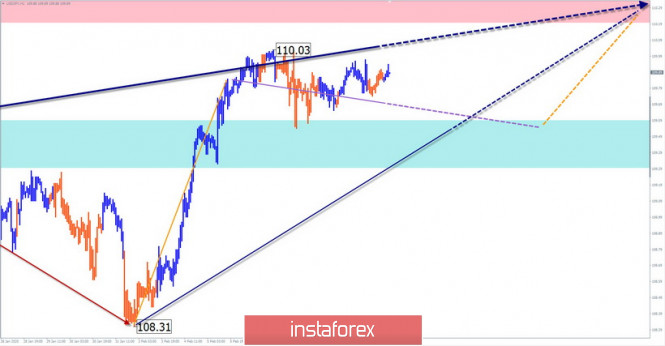 Explanations: In the simplified wave analysis (UVA), waves consist of 3 parts (A-B-C). The last incomplete wave is analyzed. The solid background of the arrows shows the formed structure and the dotted background shows the expected movements.
Note: The wave algorithm does not take into account the duration of the tool's movements in time!
The material has been provided by InstaForex Company -
www.instaforex.com

Fatal error: Uncaught Exception: 12: REST API is deprecated for versions v2.1 and higher (12) thrown in /var/www/forex-winner.com/htdocs/wp-content/plugins/seo-facebook-comments/facebook/base_facebook.php on line 1039