Gold price has a slow start for the week with low volatility and no clear direction. Trend remains bullish as price is still inside the short-term upward sloping channel created at the beginning of June. Since then price continues to make higher highs and higher lows while breaking out and above the two month consolidation.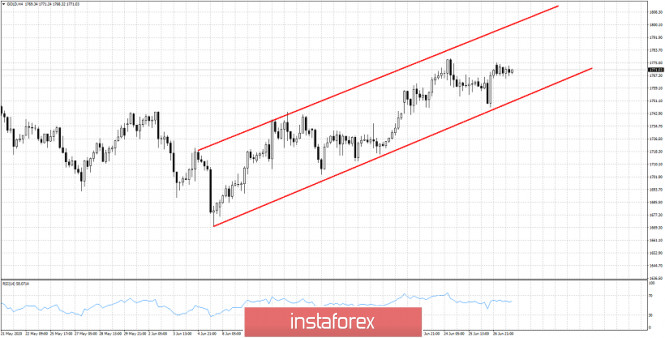 Red lines -bullish channel
Gold price is near its 2020 highs. Price remains in bullish trend as long as we trade above $1,750. We should not forget that price is now trading above the two month consolidation range and has already broken an inverted head and shoulders pattern. Both break outs had $1,780 as first target and $1,825 as second target. As long as price remains supported we continue to expect price to reach the second target area.
The material has been provided by InstaForex Company -
www.instaforex.com

Fatal error: Uncaught Exception: 12: REST API is deprecated for versions v2.1 and higher (12) thrown in /var/www/forex-winner.com/htdocs/wp-content/plugins/seo-facebook-comments/facebook/base_facebook.php on line 1039