Gold price has managed to push inside important short-term resistance area and Ichimoku cloud terms we have our first weak buy signal and the change of short-term trend to neutral. Gold price is bouncing as we expected from our last analysis and has so far reached our target of $1,550.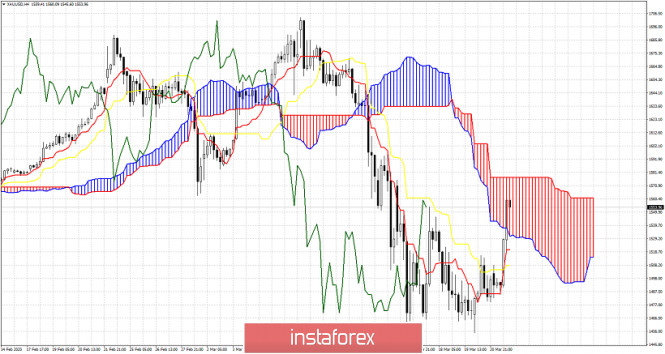 The tenkan-sen (red line indicator) has crossed above the kijun-sen (yellow line indicator). This is our first bullish signal. A weak one as price is below the Kumo, but still a bullish one. Price has also entered inside the Kumo (cloud) area turning short-term trend (4 hour chart) to neutral. Resistance is at $1,580 and a break above it will turn trend to bullish. Support is at $1,529-20 area. The previous resistance is now support. Bulls do not want to see price below that level.
On a daily basis trend is also neutral as price is inside the Daily Kumo. The daily chart agrees with the resistance levels of the 4 hour chart, so it is important to see a daily close above $1,570-80 in order to hope for a bigger move higher.
The material has been provided by InstaForex Company -
www.instaforex.com

Fatal error: Uncaught Exception: 12: REST API is deprecated for versions v2.1 and higher (12) thrown in /var/www/forex-winner.com/htdocs/wp-content/plugins/seo-facebook-comments/facebook/base_facebook.php on line 1039