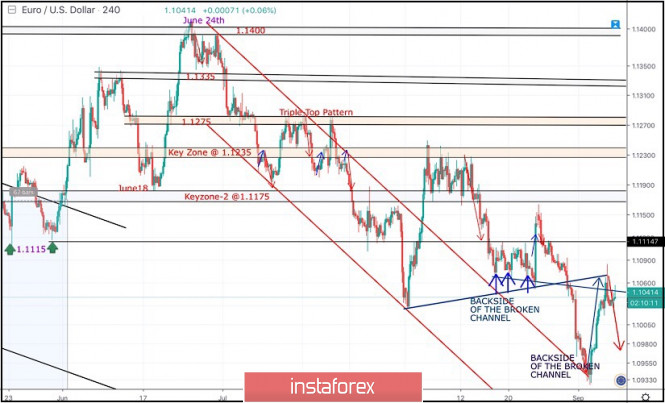 Back in June 24, the EURUSD looked overbought around 1.1400 facing a confluence of supply levels which generated significant bearish pressure over the pair.
Shortly after, In the period between 8 - 22 July, a sideway consolidation-range was established between 1.1200 - 1.1275 until a triple-top reversal pattern was demonstrated around the upper limit.
Then, Evident bearish momentum (bearish engulfing H4 candlestick) could bring the EURUSD below 1.1175.
This facilitated further bearish decline towards 1.1115 (Previous Weekly Low) then 1.1025 (the lower limit of the depicted recent bearish channel) where significant signs of bullish recovery were demonstrated.
Shortly-After in Mid-August, the EUR/USD has been trapped between 1.1235-1.1175 for a few trading sessions until bearish breakout below 1.1175 occurred on August 14.
Bearish breakout below 1.1175 promoted further bearish decline towards 1.1075 where the backside of the broken bearish channel has provided temporary bullish demand for sometime (Bullish Triple-Bottom pattern).
Bullish persistence above 1.1115 was needed to confirm the short-term trend reversal into bullish.
However, the depicted Triple-Bottom pattern was invalidated especially after the EURUSD pair bulls have failed to establish Bullish persistence above 1.1115.
Moreover, the recently established short-term uptrend line has been invalidated as well thus rendering the short-term outlook as bearish.
By the end of last week's consolidations, a quick bearish decline was demonstrated towards 1.0965 - 1.0950 where the backside of the broken channel came to meet the EURUSD pair again.
Risky traders were advised to look for a valid BUY entry anywhere around the price levels of 1.0950. All T/p levels were successfully reached.
Trade recommendations :
Conservative traders should be looking for a valid SELL entry around the current price levels 1.1050-1.1070.
S/L should be placed just above 1.1115 while target levels to be located at 1.1025, 1.0988 and 1.0935.
The material has been provided by InstaForex Company -
www.instaforex.com

Fatal error: Uncaught Exception: 12: REST API is deprecated for versions v2.1 and higher (12) thrown in /var/www/forex-winner.com/htdocs/wp-content/plugins/seo-facebook-comments/facebook/base_facebook.php on line 1039