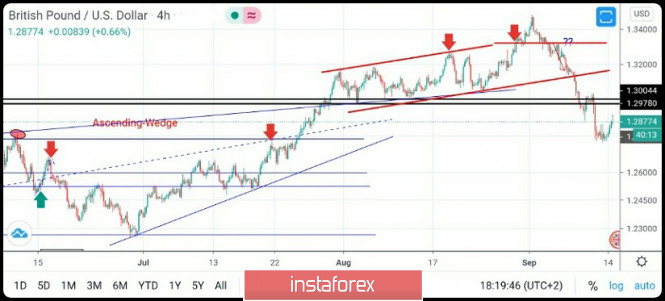 Intermediate-term technical outlook for the GBP/USD pair has remained bullish since bullish persistence was maintained above 1.2780 (Depicted KeyLevel) on the H4 Charts.
On the other hand, the GBPUSD pair looked overbought after such a quick bullish movement while approaching the price level of 1.3475.
That's why, short-term bearish reversal was expected especially after bearish persistence was achieved below the key-level level of 1.3300.
A quick bearish decline towards 1.2900 where significant bullish recovery was recently expressed.
The price zone of 1.3130-1.3150 (the backside of the broken trend) remains an Intraday Key-Zone to offer bearish pressure if retested again soon.
However, the GBPUSD pair is showing lack of sufficient bullish momentum to pursue above the price level of 1.3000. That's why, bearish persistence below 1.3000 will probably enable further bearish decline initially towards 1.2800 where price action should be watched again.
Trade recommendations :
Conservative traders are advised to wait for bullish pullback towards 1.3130-1.3150 (the backside of the broken trend) as a valid SELL Entry.
Initial T/p level is to be located around 1.3050 and 1.2900 if sufficient bearish pressure is maintained. On the other hand, bullish persistence above 1.3200 invalidates this trading scenario.
The material has been provided by InstaForex Company -
www.instaforex.com

Fatal error: Uncaught Exception: 12: REST API is deprecated for versions v2.1 and higher (12) thrown in /var/www/forex-winner.com/htdocs/wp-content/plugins/seo-facebook-comments/facebook/base_facebook.php on line 1039