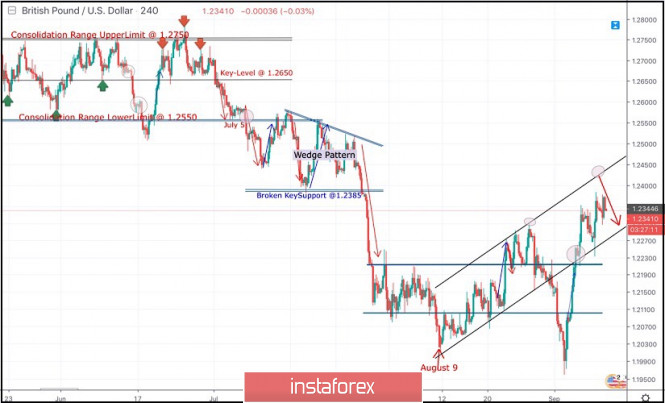 On July 26, Bearish breakdown below 1.2385 (Wedge-Pattern Key-Level) facilitated further bearish decline towards 1.2210 and 1.2100 which corresponded to significant key-levels on the Weekly chart.
In Early August, another consolidation-range was temporarily established above 1.2100 before August 9 when temporary bearish movement was executed towards 1.2025 (Previous Weekly-Bottom).
Recent bullish recovery was demonstrated off the recent bottom (1.2025).
This brought the GBP/USD pair back above 1.2100 (Lower limit of the recently established consolidation-zone) within the depicted short-term bullish channel.
As expected, further bullish advancement was demonstrated towards 1.2230 then 1.2280 where recent bearish rejection was demonstrated (near the upper limit of the recent movement channel).
Bullish persistence above 1.2160 (the recent consolidation range pivot-point) was needed to enhance further bullish advancement.
Instead, another quick bearish decline was demonstrated towards 1.2100 then 1.2000 (corresponding to the previous bottom established on August 9).
Last Week, Early signs of bullish recovery (Bullish Engulfing candlesticks) were manifested around 1.1960 bringing the GBPUSD back above 1.2100.
As expected, further bullish advancement was demonstrated towards 1.2200 where the GBPUSD pair looked overbought.
However, further bullish momentum was demonstrated towards 1.2320 bringing the pair back inside the depicted movement channel again.
Further bullish advancement should be expected towards 1.2400 - 1.2420 where the upper limit of the current movement channel comes to meet the pair.
The Long-term outlook remains bearish as long as the upper limit of the current movement channel around 1.2400 remains defended by the GBPUSD bears.
Trade Recommendations:
Conservative traders should wait for the current bullish movement to pursue towards 1.2400-1.2420 (upper limit of the depicted movement channel) for a valid SELL entry.
T/P level to be placed around 1.2300, 1.2250 then 1.2220 while S/L should be placed above 1.2450.
The material has been provided by InstaForex Company -
www.instaforex.com

Fatal error: Uncaught Exception: 12: REST API is deprecated for versions v2.1 and higher (12) thrown in /var/www/forex-winner.com/htdocs/wp-content/plugins/seo-facebook-comments/facebook/base_facebook.php on line 1039