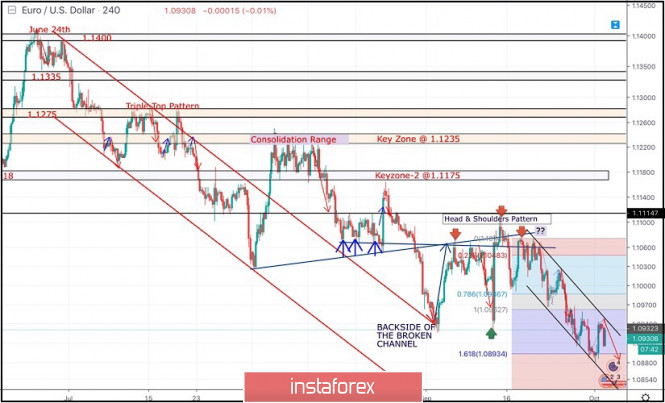 On September 13, the EUR/USD pair was testing the backside of both broken trends around 1.1060-1.1080 where significant bearish pressure was demonstrated.
Shortly-After, Few DESCENDING-Tops were established around 1.1075 and 1.1060.
This rendered the recent bullish spike as a bullish trap.
Since then, the EURUSD has been trending-down within the depicted short-term bearish channel.
On September 23, a recent bullish pullback towards the price level of 1.1020 was obviously rejected by the end of last Tuesday's consolidations.
Bearish persistence below 1.0965 (recent daily bottom) enhanced more bearish decline towards 1.0930 and 1.0890 (Fibonacci Expansion 161.8%) where recent signs of bullish recovery is being demonstrated (Inverted Head & Shoulders Pattern).
Moreover, the EUR/USD is demonstrating a long-term Head & Shoulders continuation pattern extending between (1.0930 - 1.1080) with neckline located around 1.0940.
As long as bearish persistence below 1.0940 (Neckline) is maintained, Pattern projection target would remain projected towards 1.0840.
On the other hand, any bullish breakout above 1.0960 confirms the mentioned Inverted Head & Shoulders Pattern which opens the way for further bullish advancement towards 1.1030 (Pattern projection Target).
Trade recommendations :
Risky traders should wait for a bullish breakout above 1.0960 as a valid BUY signal.
Initial Target levels should be located at 1.1000 and 1.1030.
The material has been provided by InstaForex Company -
www.instaforex.com

Fatal error: Uncaught Exception: 12: REST API is deprecated for versions v2.1 and higher (12) thrown in /var/www/forex-winner.com/htdocs/wp-content/plugins/seo-facebook-comments/facebook/base_facebook.php on line 1039