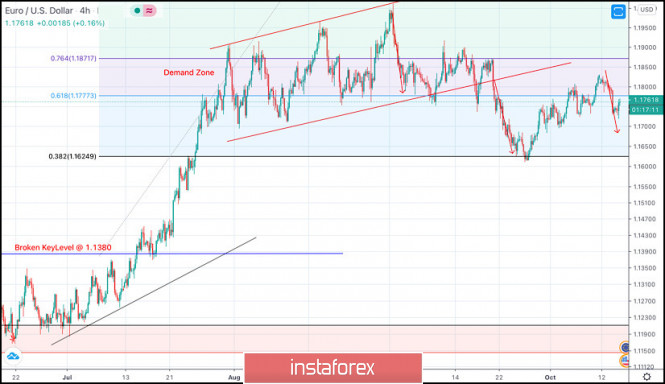 The EURUSD pair has failed to maintain enough bearish momentum below 1.1150 (consolidation range lower zone) to enhance further bearish decline.
Instead, bullish breakout above 1.1380-1.1400 has lead to a quick bullish spike directly towards 1.1750 which failed to offer sufficient bearish pressure.
Bullish persistence above 1.1700-1.1760 favored further bullish advancement towards 1.1975 where some considerable bearish rejection has been demonstrated.
The price zone around 1.1975-1.2000 ( upper limit of the technical channel ) constituted a SOLID SUPPLY-Zone which offered bearish pressure.
Intraday traders should have noticed the recent bearish closure below 1.1700 - 1.1750 as an indicator for a possible bearish reversal.
On the other hand, the price zone of 1.1850 - 1.1870 remains a solid SUPPLY Zone to be considered for bearish reversal upon any upcoming bullish pullback by Intermediate-term traders.
Trade recommendations :
Conservative traders should wait for the current bullish pullback to pursue towards the recently-broken Uptrend Line around 1.1850 for a valid SELL Entry.
T/P levels to be located around 1.1770, 1.1645 and 1.1600 while S/L to be placed above 1.1900 to minimize the associated risk.
The material has been provided by InstaForex Company -
www.instaforex.com

Fatal error: Uncaught Exception: 12: REST API is deprecated for versions v2.1 and higher (12) thrown in /var/www/forex-winner.com/htdocs/wp-content/plugins/seo-facebook-comments/facebook/base_facebook.php on line 1039