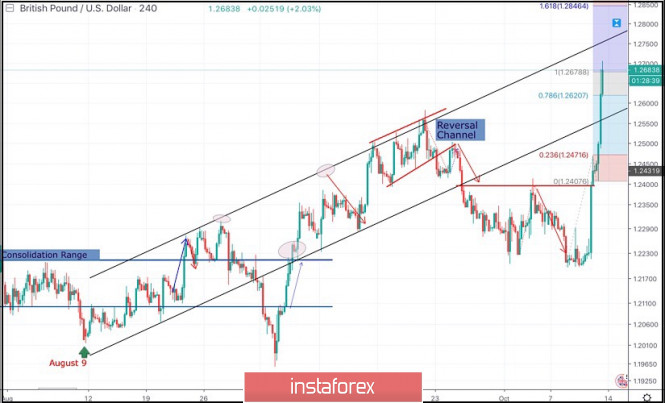 On August 9, the depicted bullish channel has been established.
Since then, the GBP/USD pair has been trending-up except on September 3 when a temporary bearish breakout was demonstrated towards 1.1960.
Around the price level of 1.1960, aggressive signs of bullish recovery (Bullish Engulfing candlesticks) brought the GBPUSD back inside the depicted movement channel.
Moreover, Temporary bullish advancement was demonstrated towards 1.2550 where a short-term reversal channel was demonstrated.
As anticipated, the reversal channel was broken-down on September 23 supported by obvious bearish price action demonstrating a successful bearish closure below 1.2450.
On September 25, the depicted bullish channel was finally terminated with significant full-body bearish candlesticks which managed to achieve bearish closure below 1.2395.
Bearish persistence below 1.2400-1.2440 (Reversal-Pattern Neckline) allowed more bearish decline to occur towards the price levels of 1.2210 where two recent episodes of bullish swings were originated towards 1.2400 on October 2 and October 8.
This week, the price zone of 1.2400-1.2415 (Previous SUPPLY-Zone) was breached to the upside allowing further bullish advancement to occur towards 1.2485, 1.2620 then 1.2680.
Today, bullish breakout above 1.2680 brings further bullish advancement towards 1.2840 (1.61% Fibonacci Expansion).
Otherwise, sideway consolidations may be demonstrated between 1.2680-1.2620 until breakout occurs in either directions.
The material has been provided by InstaForex Company -
www.instaforex.com

Fatal error: Uncaught Exception: 12: REST API is deprecated for versions v2.1 and higher (12) thrown in /var/www/forex-winner.com/htdocs/wp-content/plugins/seo-facebook-comments/facebook/base_facebook.php on line 1039