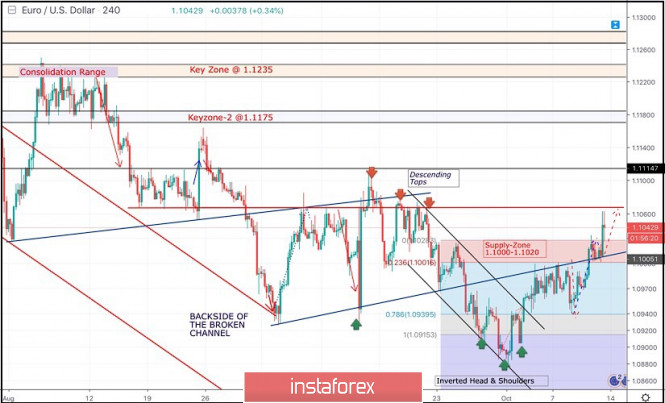 Recent Descending-Tops were established around the price levels of 1.1060-1.1075 where the backside of a recently-broken trend was retested.
Since then, the EUR/USD has been trending-down within the depicted short-term bearish channel until recent signs of bullish recovery were demonstrated around 1.0880 (Inverted Head & Shoulders Pattern).
Shortly After, a bullish breakout above 1.0960 confirmed the mentioned reversal Pattern which opened the way for further bullish advancement towards (1.1000 -1.1020) where another episode of bearish rejection was expected on October 7.
That's why, initial Intraday bearish pullback was expected towards 1.0940-10915 where another bullish swing was initiated as expected.
The intermediate-term outlook remains bullish as long as the EURUSD pair pursues its current movement above 1.0980 (recent ascending bottom).
Moreover, the current bullish breakout above 1.1030 (0% Fibonacci Expansion) should be maintained. Thus, the short-term projection target remains projected towards 1.1065 and 1.1115.
Bullish persistence above 1.1065 is mandatory to enhance further bullish movement towards 1.1115. Otherwise, sideway consolidations may be demonstrated until bullish breakout is achieved.
Trade recommendations :
Intraday BUY entry was suggested upon the recent bearish pullback towards 1.1000 (Backside of the broken bullish uptrend). It's already running in profits.
Remaining T/P levels to be located at 1.1065 then 1.1115. S/L should be placed below 1.0960.
The material has been provided by InstaForex Company -
www.instaforex.com

Fatal error: Uncaught Exception: 12: REST API is deprecated for versions v2.1 and higher (12) thrown in /var/www/forex-winner.com/htdocs/wp-content/plugins/seo-facebook-comments/facebook/base_facebook.php on line 1039