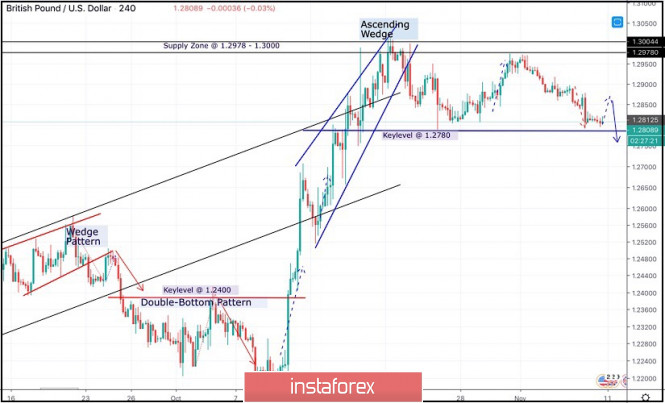 Few weeks ago, the neckline of the depicted Double-Bottom pattern (1.2400-1.2415) was breached to the upside. That's why, Further Bullish advancement was demonstrated towards 1.2800 then 1.3000.
Since October 21, the GBP/USD pair has failed to achieve a persistent bullish breakout above the depicted SUPPLY-zone (1.2980-1.3000) which corresponds to a previous Prominent-TOP that goes back to May 2019.
Moreover, the depicted ascending wedge reversal pattern has been confirmed indicating a high probability of bearish reversal around the price levels of 1.2950-1.2970.
That's why, a quick bearish movement was anticipated towards 1.2780 (Key-Level) where some bullish recovery was recently initiated on October 24.
The recent Bullish rejection around the price levels of 1.2780, indicated another temporary bullish movement towards 1.2980-1.3000 where another long-term bearish swing was initiated as expected.
Since Yesterday, signs of bullish recovery have been demonstrated around 1.2780. However, The short-term outlook remains bearish as long as consolidations are maintained below 1.2850.
On the other hand, a quick bearish breakout below 1.2780 should be achieved to enable further bearish decline towards 1.2600-1.2650 where some bullish recovery should be anticipated.
Trade Recommendations:
Intraday traders can look for valid SELL entries when bearish breakout below 1.2780 is achieved. Expected Bearish target is projected towards 1.2670, 1.2650 and 1.2600
The material has been provided by InstaForex Company -
www.instaforex.com

Fatal error: Uncaught Exception: 12: REST API is deprecated for versions v2.1 and higher (12) thrown in /var/www/forex-winner.com/htdocs/wp-content/plugins/seo-facebook-comments/facebook/base_facebook.php on line 1039