The events of the past week clearly demonstrated the emerging focus of market participants, their concentration on the topic of US-Chinese negotiations and their impact on corporate reporting by companies from the USA and China.
If the Fed's decision on rates and bank plans for the near future had some local influence, and the published employment figures also had only a limited effect on investor sentiment, then news and rumors on the topic of trade negotiations between Washington and Beijing remain important and the most influential.
Last week, news from information giants Bloomberg and Reuters regarding how the negotiation process goes was controversial. This had a negative impact on the players in the market and hopes that a new trade agreement will be reached this month. In addition, this led to an increase in the cost of gold, as well as a general increase in demand for defensive assets - government bonds of economically strong countries, primarily the United States, the Japanese yen and the Swiss franc. But on Monday, an optimistic message from the representative of the American side, W. Ross, that the parties are close to a new trade deal inspired optimism in the markets, which led to a reversal of sentiment in global financial markets.
On Monday, the decline in the dollar stopped in the currency market. The DXY dollar index pushed off the support line at 97.10 and rose sharply. Thus, it supported by the upward trend in US government bond yields, which continues today in the Asian trading session.
It was also yesterday that the single currency consolidated at a local maximum in anticipation of the first speech of the new head of the ECB C. Lagarde. Investors eagerly awaited her comment on the outlook for the monetary policy of the European regulator. However, she didn't touch this topic in her speech, which seemed to dampen the hopes of the "bulls" hoping that the ECB, against the background of disagreements within the bank regarding the need to continue the soft monetary rate, would make it clear that there was a possible pause in the decision to follow the earlier outlined courses the previous head of the Central Bank M. Draghi.
Given the current situation, we believe that maintaining a positive mood will contribute to the local strengthening of the dollar, as well as weakening the upward trend in gold prices amid continued general demand for risky assets.
Forecast of the day:
The EUR/USD pair is trading above the level of 1.1117, while continuing to move in the range of 1.1075-1.1175. We consider it possible to sell the pair after it crosses the level of 1.1117 with a likely decline to 1.1075.
Gold is correcting downward, reaching local highs in the price range of 1476.80-1514.00. We consider it is possible to sell after the price crosses the level at 1500.00 with a local target of 1476.80.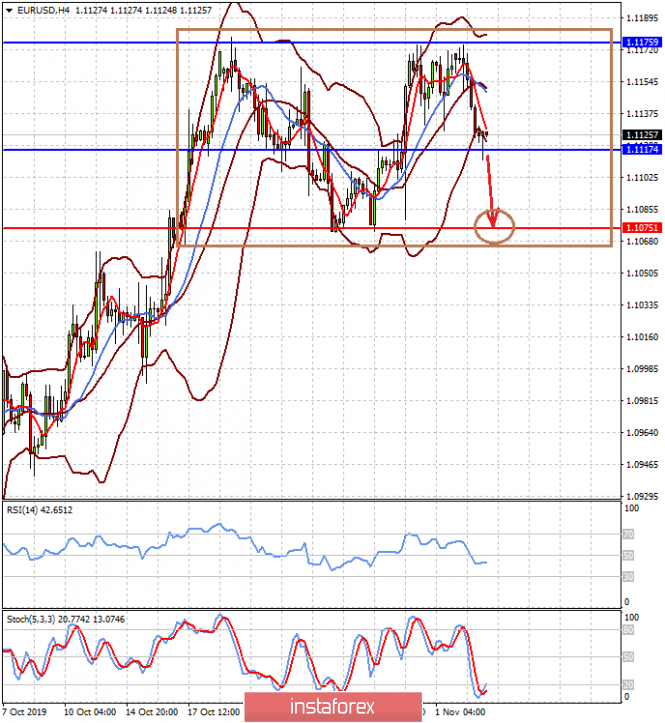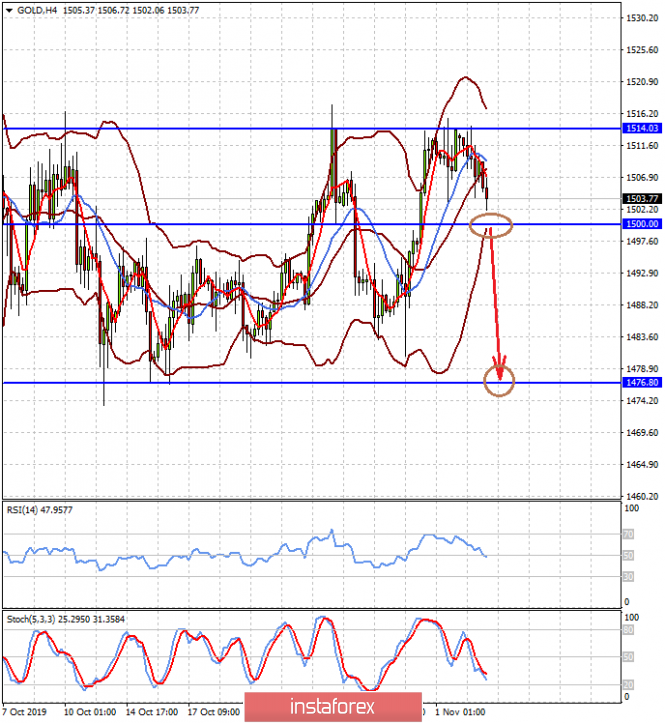 The material has been provided by InstaForex Company -
www.instaforex.com

Fatal error: Uncaught Exception: 12: REST API is deprecated for versions v2.1 and higher (12) thrown in /var/www/forex-winner.com/htdocs/wp-content/plugins/seo-facebook-comments/facebook/base_facebook.php on line 1039