Boris Johnson and Leo Varadkar gave the pound new hope, saying at the end of the meeting that they were able to agree on the most pressing issues and see an opportunity for an early end to the protracted epic with Brexit. This instantly led to the rapid growth of the pound. Growth, which is conditioned only by faith in the best. After all, neither Boris Johnson nor Leo Varadkar bothered to tell any details what kind of agreements were reached. They limited themselves to a statement that an agreement could be reached before October 31. The main thing is that now there is every reason for the resumption of negotiations between London and Brussels. Thus, it's immediately clear that the growth of the pound is due solely to emotions.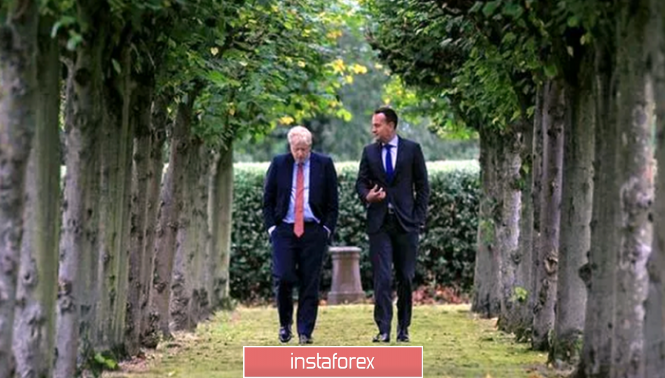 However, while politicians endlessly talk about something there and promise a bright future, the real state of affairs in the economy of the United Kingdom is clearly causing concern. Thus, the decline in industrial production has deepened from -1.1% to -1.8%, so it is time for politicians to finish talking and finally get down to business. Indeed, the economy, unlike the media, does not feed on promises and beautiful words.
Industrial Production (UK):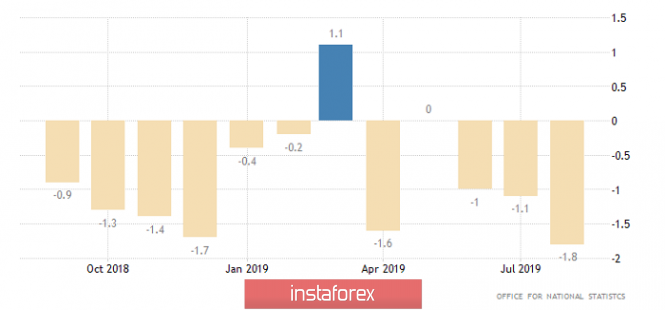 At the same time, one gets the feeling that in the European Union politicians are more passionate about endless meetings, with tasty drinks and snacks, rather than solving real problems. In Italy, the decline in industrial production is also deepening from -0.7% to -1.8%. And even in France, which until recently could boast of at least zero growth in industrial production, they reported a decline of 1.4%. Therefore, in general, things at the Old World are clearly not in the best way. Although solving these problems requires serious work, not high-level meetings, which, of course, is much more pleasant than working. These are politicians all over Europe and are passionate about imitating violent activity.
Industrial Production (France):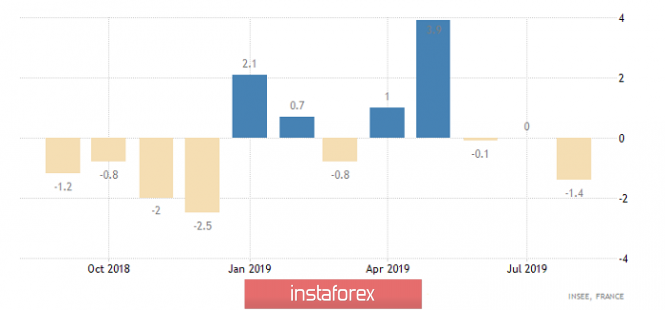 On the other hand, it should be noted that American statistics came out slightly worse than expected. However, the most frightening expectations for inflation have not been met yet. Yes, it did not accelerate, as predicted, but did not decrease. Inflation has remained unchanged but applications for unemployment benefits were clearly disappointing. On the one hand, the number of initial applications decreased by 10 thousand, and not by 1 thousand, as expected. Nevertheless, the number of repeated applications did not decrease by 2 thousand, but grew by 29 thousand. Thus, the overall balance increased by 19 thousand, while a decrease of 3 thousand was predicted. In other words, the weakening dollar was also due to disappointing US statistics.
Inflation (United States):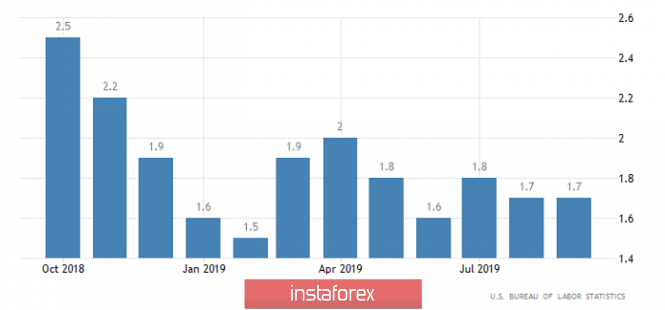 Today, inflation data has already been published in several European countries. So, in Germany, they confirmed the fact that inflation fell from 1.4% to 1.2%. In Spain, inflation remained unchanged at 0.1%. Meanwhile, no other data is expected anymore either for Europe or for the United States today.
Inflation (Germany):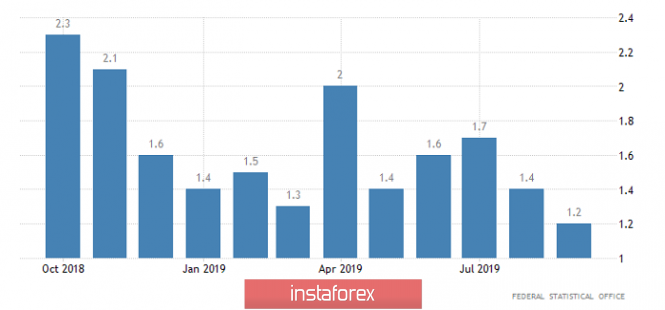 In fact, the market almost ignored inflation data in Germany and Spain. Investors are awaiting the outcome of today's meeting between Brexit's Minister for Business Steven Barclay and European Union Chief Negotiator Michel Barnier. They should outline a plan of action for the early resumption of negotiations to conclude a divorce agreement. So investors will just wait. However, in many respects, the weakening of the dollar was purely emotional in nature and new beautiful words in essence will not change anything. Due to this, it's worth waiting for a rather moderate reaction to the results of the next meeting and the gradual weakening of the single European currency to 1.0975 just because of the clearly weak state of the European economy.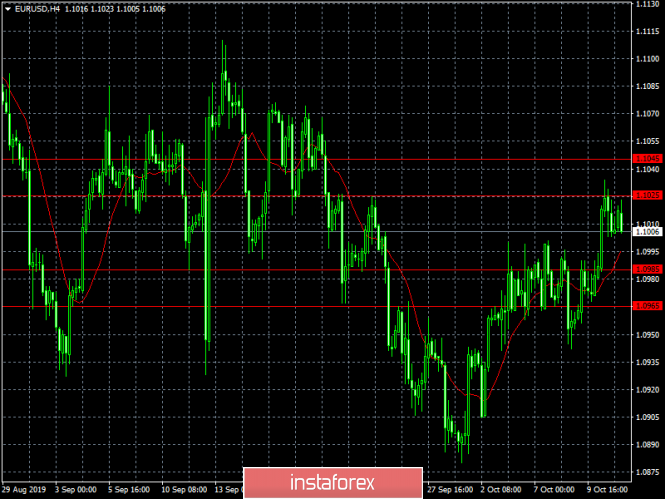 The pound reacted extremely emotionally to yesterday's meeting between Boris Johnson and Leo Varadkar. Moreover, the growth was purely emotional in nature, and obviously the pound was overbought. The results of today's meeting will not go beyond statements that negotiations will resume in the near future. So emotions will gradually subside, and reality will take its toll. Thus, expect a gradual decline in the pound to 1.2350.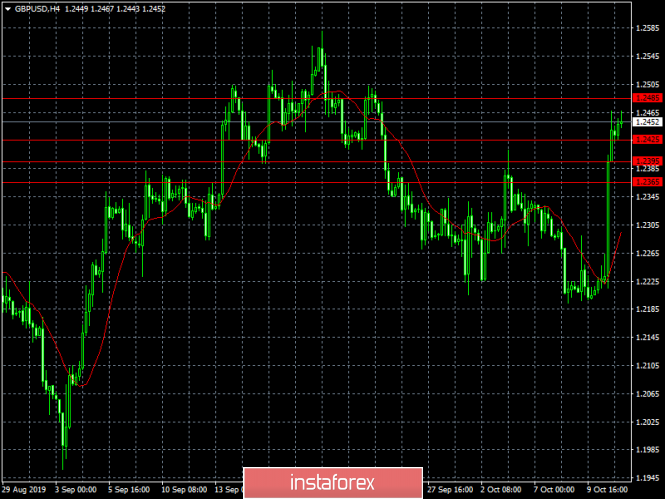 The material has been provided by InstaForex Company -
www.instaforex.com

Fatal error: Uncaught Exception: 12: REST API is deprecated for versions v2.1 and higher (12) thrown in /var/www/forex-winner.com/htdocs/wp-content/plugins/seo-facebook-comments/facebook/base_facebook.php on line 1039