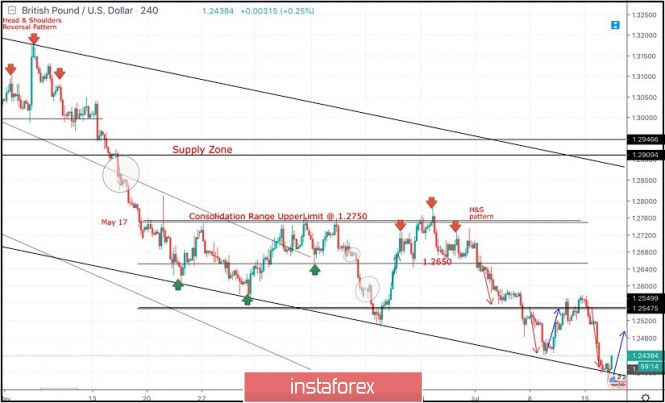 Since May 17, the previous downside movement within the depicted bearish channel came to a pause allowing the recent sideway consolidation range to be established between 1.2750 - 1.2550 with a prominent key-level around 1.2650.
In June , temporary bullish consolidation patterns were demonstrated above 1.2650 for a few trading sessions.
However, the price level of 1.2750 (consolidation range upper limit) has prevented further bullish advancement few times so far.
Moreover, signs of bearish rejection have been manifested (Head & Shoulders reversal pattern with neckline located around 1.2650).
Bearish breakdown below 1.2650 (reversal pattern neckline) confirmed the reversal pattern with bearish projection target located at 1.2550, 1.2510 and 1.2450.
Intermediate-term technical outlook remains under bearish pressure as long as the market keeps moving below 1.2650 (mid-range key-level and neckline of the reversal pattern).
Moreover, the recent Bearish breakdown below 1.2570 - 1.2550 (the lower limit of the depicted consolidation range) confirmed a trend reversal into bearish on the short-term.
On the other hand, the recent bullish pullback towards 1.2550-1.2570 was recommended as a valid SELL opportunity for Intraday traders. All bearish Target levels have already been reached.
Quick bearish decline was expected to occur towards 1.2450-1.2400 (the lower limit of the current movement channel) where early signs of bullish rejection and a bullish pullback are currentlybeing demonstrated.
As mentioned in a previous article, Intraday traders can have a short-term BUY trade anywhere around (1.2400 - 1.1450) provided that no bearish breakdown occurs below 1.2400 (the lower limit of the depicted movement channel).
Trade Recommendations:
Intraday traders can have a valid BUY Entry anywhere around the lower limit of the current movement channel (1.2400).
T/P levels to be located around 1.2450 and 1.2510. S/L should be placed below 1.2370.
The material has been provided by InstaForex Company -
www.instaforex.com

Fatal error: Uncaught Exception: 12: REST API is deprecated for versions v2.1 and higher (12) thrown in /var/www/forex-winner.com/htdocs/wp-content/plugins/seo-facebook-comments/facebook/base_facebook.php on line 1039