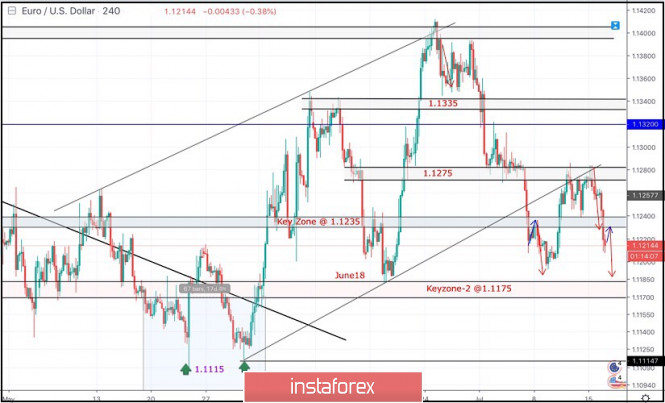 Initially, Temporary Bullish breakout above 1.1335 was demonstrated (suggesting a high probability bullish continuation pattern).
However, the EURUSD pair has failed to maintain that bullish persistence above 1.1320 and 1.1275 (the depicted price levels/zones).
This was followed by a deeper bearish pullback towards 1.1175 where significant bullish price action was demonstrated on June 18.
The EURUSD looked overbought around 1.1400 facing a confluence of supply levels. Thus, a bearish pullback was initiated towards 1.1275 as expected in a previous article.
Further Bearish decline below 1.1275 enhanced a deeper bearish decline towards 1.1235 (the lower limit of the newly-established bullish channel) which failed to provide enough bullish support for the EUR/USD.
The recent bearish breakdown below 1.1235 invited further bearish momentum to move towards 1.1175.
However, significant bullish momentum was earlier demonstrated around 1.1200 bringing the EUR/USD pair again above 1.1235.
That's why, the recent bullish pullback was expected to pursue towards the price zone around 1.1275 where a confluence of resistance/supply levels came to meet the pair.
A recent double-top Bearish pattern was demonstrated around the price zone of 1.1275 where a valid Intraday SELL position was suggested in previous articles.
Recent Bearish breakdown of the pattern neckline around (1.1235) confirms the short-term trend reversal into bearish towards 1.1175.
Any bullish pullback towards the depicted key zone around 1.1235 should be considered for a valid SELL entry.
On the other hand, a bullish breakout above (1.1235-1.1250) brings the EUR/USD pair again between depicted price-zones (1.1235-1.1275) until another breakout attempt is demonstrated in either directions (More probably to the downside).
Trade recommendations :
For Intraday traders, another valid SELL entry can be offered at retesting of the broken neckline around 1.1235.
Initial Target levels to be located around 1.1200 and 1.1175.
Stop Loss should be placed above 1.1260.
The material has been provided by InstaForex Company -
www.instaforex.com

Fatal error: Uncaught Exception: 12: REST API is deprecated for versions v2.1 and higher (12) thrown in /var/www/forex-winner.com/htdocs/wp-content/plugins/seo-facebook-comments/facebook/base_facebook.php on line 1039