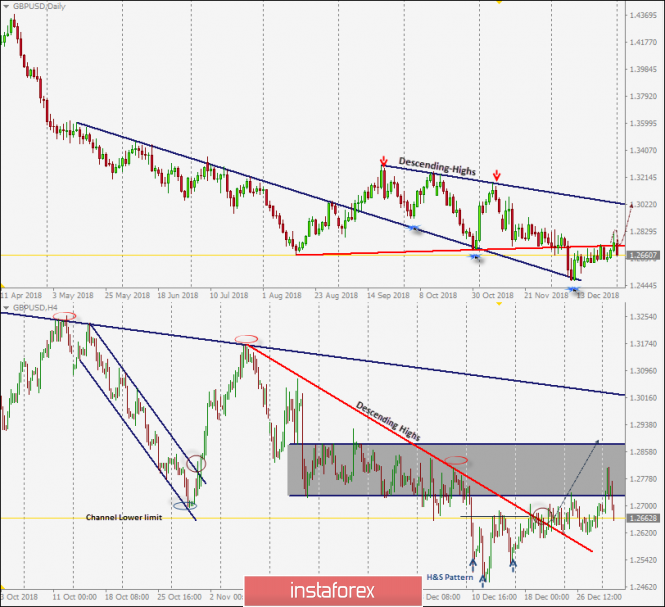 Since Mid-November, Successive Lower Highs were demonstrated below the depicted H4 downtrend line around the price levels of 1.2870 and 1.2780.
Shortly after, a quick bearish decline was demonstrated towards the price level of 1.2500 before bullish recovery could take place on December 12.
A bullish Head & Shoulders pattern is being demonstrated on the H4 chart with neckline located around 1.2650-1.2680. Bullish persistence above 1.2660-1.2680 was mandatory for pattern confirmation. Initial Bullish target is projected towards 1.2880.
Last week, recent price action demonstrated a successful bullish breakout above the depicted downtrend line.
On Thursday, early bullish breakout attempt above 1.2720 was demonstrated on the H4 chart. However, the market failed to maintain sufficient bullish momentum above 1.2800 (mid-range of the depicted consolidation range).
That's why, another bearish pullback towards 1.2600-1.2650 (pattern neckline) should be expected during today's consolidations.
Another bullish breakout above 1.2720 is mandatory to resume the bullish scenario of the market. Otherwise, the pair remains trapped within the previous consolidation range (1.2600-1.2720).
The material has been provided by InstaForex Company -
www.instaforex.com

Fatal error: Uncaught Exception: 12: REST API is deprecated for versions v2.1 and higher (12) thrown in /var/www/forex-winner.com/htdocs/wp-content/plugins/seo-facebook-comments/facebook/base_facebook.php on line 1039