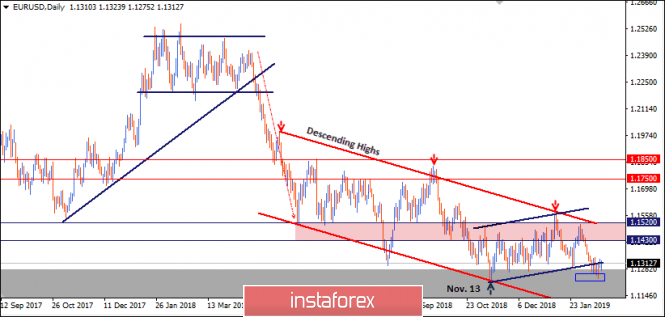 Since June 2018, the EUR/USD pair has been moving sideways with slight bearish tendency within the depicted bearish Channel (In RED).
On November 13, the EUR/USD demonstrated recent bullish recovery around 1.1220-1.1250 where the current bullish movement above the depicted short-term bullish channel (In BLUE) was initiated.
Bullish fixation above 1.1430 was needed to enhance further bullish movement towards 1.1520. However, the market has been demonstrating obvious bearish rejection around 1.1430 few times so far.
The EUR/USD pair has lost its bullish momentum since January 31 when a bearish engulfing candlestick was demonstrated around 1.1514 where another descending high was established then.
On February 5, a bearish daily candlestick closure below 1.1420 terminated the recent bullish recovery.
This allowed the current bearish movement to occur towards 1.1300-1.1270 where the lower limit of the depicted DAILY channel comes to meet the pair.
The EUR/USD pair was demonstrating weak bullish recovery around the depicted price zone (1.1300-1.1270) with early signs of bearish reversal probability.
A bearish flag pattern may become confirmed if bearish persistence below 1.1250 is achieved on the daily-chart basis. Pattern target is projected towards 1.1000.
Trade Recommendations:
A counter-trend BUY entry was already suggested near the price level (1.1285) (the lower limit of the depicted movement channel).Stop Loss to be located below 1.1225 while T/P level to be located around 1.1350 and 1.1420.
The material has been provided by InstaForex Company -
www.instaforex.com

Fatal error: Uncaught Exception: 12: REST API is deprecated for versions v2.1 and higher (12) thrown in /var/www/forex-winner.com/htdocs/wp-content/plugins/seo-facebook-comments/facebook/base_facebook.php on line 1039