Gold price has pulled back from $1,639 to $1,592 and is now bouncing again. Price did not go as low as our pull back target of $1,577. Price remains inside the bullish channel since March 19 lows. The Ichimoku cloud indicator has strengthened the bullish scenario in the 4 hour chart.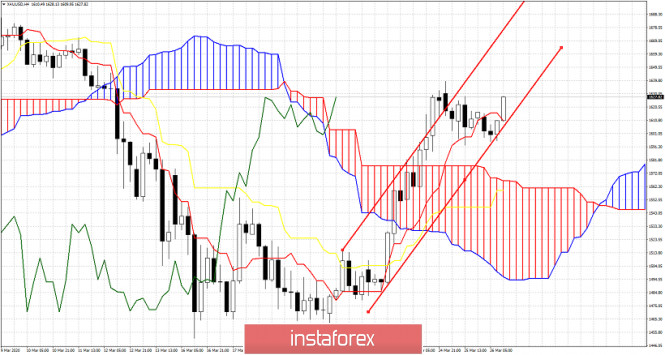 Red lines - bullish channel
Gold price has moved nearly $100 higher since the weak bullish cross of the tenkan-sen (red line indicator) above the kijun-sen (yellow line indicator). Now price continues to make higher highs and higher lows as it has also broken above the 4 hour and the Daily cloud resistance. The Chikou span is also above the cloud in the 4 hour chart supporting the bullish scenario and increasing the chances of a new higher high towards $1,650-40. Support is key at $1,600-$1,590. Breaking below this level will open the way for a move towards cloud support at $1.560. Bulls do not want to see price break that level.
The material has been provided by InstaForex Company -
www.instaforex.com

Fatal error: Uncaught Exception: 12: REST API is deprecated for versions v2.1 and higher (12) thrown in /var/www/forex-winner.com/htdocs/wp-content/plugins/seo-facebook-comments/facebook/base_facebook.php on line 1039