Gold price has broken the bearish flag formation we showed yesterday and has given a new bearish signal. Gold price is vulnerable to a move towards $1,400 and lower. Gold bulls remain in control of short-term trend as long as price holds $1,400.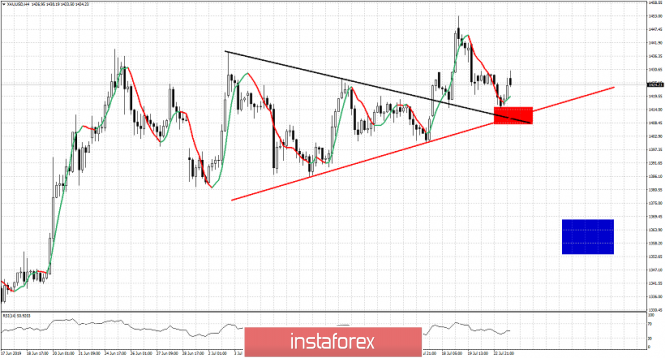 Black line - short-term resistance (broken)
Red line - short-term support
Red rectangle - key support short-term area
Blue rectangle -target if support fails to hold
Gold price is challenging the red rectangle area and the red upward sloping trend line. Breaking below this trend line will open the way for a move towards $1,350-60. Gold price is vulnerable to the downside. Resistance is at $1,430 for the short-term. Recapturing this level will increase the chances for a new higher high. So far Gold price since the beginning of July is making higher highs and higher lows. This confirms bulls are in control. This will change only with the break of the red trend line. So traders should keep a close eye on the $1,400-$1,415 area.
The material has been provided by InstaForex Company -
www.instaforex.com

Fatal error: Uncaught Exception: 12: REST API is deprecated for versions v2.1 and higher (12) thrown in /var/www/forex-winner.com/htdocs/wp-content/plugins/seo-facebook-comments/facebook/base_facebook.php on line 1039