Gold price bounced today from the recent lows at $1,479 to $1,493. Gold price has broken important trend line support and today's bounce was most probably a back test of this trend line that is now resistance.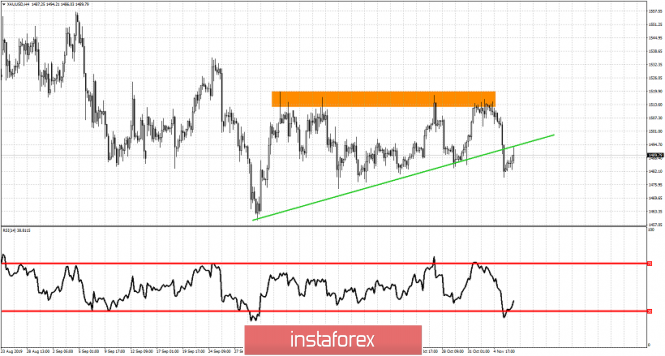 Orange -rectangle - resistance
Green line - trend line resistance (old support)
Gold price shows rejection signs at the back test of the broken green trend line. Gold bulls need to step in and push price above $1,500 until the end of the week. Support remains at $1,480 and a new lower low this week would be a bearish sign for next week as well. If bulls manage to end the week above or near $1,505 then we could see more upside next week. For now bears are in control but they will also need to show more signs of strength in order to expect more downside.
The material has been provided by InstaForex Company -
www.instaforex.com

Fatal error: Uncaught Exception: 12: REST API is deprecated for versions v2.1 and higher (12) thrown in /var/www/forex-winner.com/htdocs/wp-content/plugins/seo-facebook-comments/facebook/base_facebook.php on line 1039