XAU/USD has managed to rebound in the last hours, but the upside is under treat as long it stays below the $1,900 psychological level. The yellow metal dropped aggressively in yesterday's session as the USDX has managed to recover.
Gold is trading at the $1,897 level, yesterday's drop could be only a temporary one if the rate comes back and consolidates above the $1,900.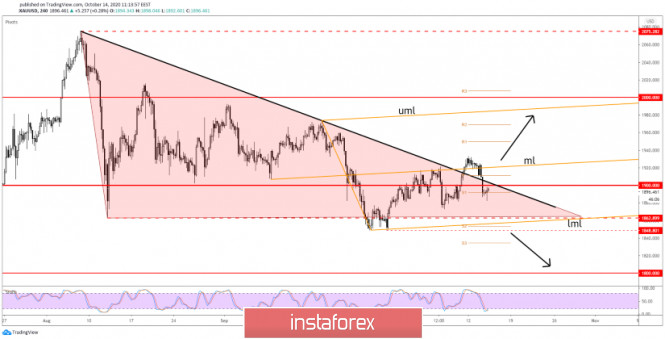 Gold comes back to challenge the $1,900 and the triangle's upside line, the downtrend line. Technically, I believe that only a valid breakout above the median line (ml) of the ascending pitchfork could really validate a broader upside movement.
A false breakout with great separation above the near-term resistance levels could attract more sellers in the short term.
Buy another bullish run above the median line (ml), a new higher high. The Stop Loss could be placed below $1,880, while the Take Profit could be placed around the $2,000 level.
Sell a drop below $1,848 former low with a first downside target at $1,800 psychological level.
The material has been provided by InstaForex Company -
www.instaforex.com

Fatal error: Uncaught Exception: 12: REST API is deprecated for versions v2.1 and higher (12) thrown in /var/www/forex-winner.com/htdocs/wp-content/plugins/seo-facebook-comments/facebook/base_facebook.php on line 1039