Today gold plunged and extended yesterday's drop, but the bias remains bullish. The price moves somehow sideways on the daily chart, it is pressuring the $1,700 and the R1 ($1,702) levels, a rejection will signal that the decrease is finished and that a further increase will come.
The coronavirus spread could slow down after reaching a peak, but unfortunately, the global risk remains high, a major recession could keep the gold price higher. Gold has represented a good investment in this COVID-19 pandemic, but right now we need a confirmation that the price will jump way higher.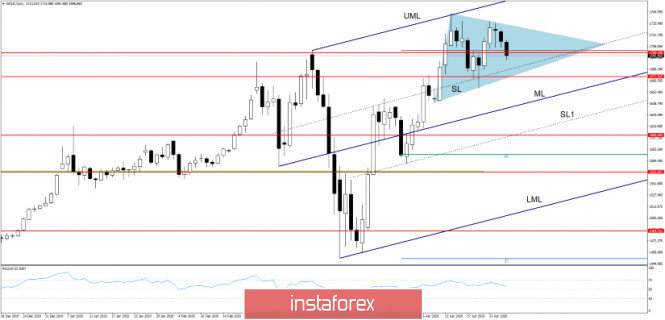 Gold has shown some exhaustion signs on the Daily chart, it has failed to approach and reach the upper median line (UML) of the ascending pitchfork signaling an overbought situation.
The price could continue to move sideways on the short term, it has developed a triangle, an upside valid breakout will validate a further increase towards the upper median line (UML) and towards the $1800 psychological level, while a valid downside breakout followed by a drop below $1,671 could confirm a corrective phase.
The price action is developing also a Double Top, this chart pattern will be confirmed after a valid breakdown below the inside sliding line (SL) and below the $1,671 level. Gold will edge higher if USD depreciates versus other major currencies.
As you already know from my previous analysis, the gold price will increase further if it stabilizes above the $1,700 - $1,702 area, so a valid breakout from this triangle will validate this scenario and the Gold price will approach and reach new highs.
However, the failure to reach the upper median line (uml) in the last attempt has signaled that the buyers are exhausted, but you should know that the outlook is bullish as long as the price is traded above the inside sliding line (SL) of the ascending pitchfork.
I've said in my previous analysis that we should wait for a valid breakout above the $1,700 level before going long, a false breakdown with a great separation below this level will bring another buying opportunity. The yellow metal is likely to increase further if the US data shows disappointing results later today.
If the Double Top will be confirmed, the gold price could drop towards the $1,600 - $1,555 area. On the upside, the upper median line (UML) represents a strong dynamic resistance. Gold could approach this target if it stays above the sliding line (SL) and above the $1,700 level.
The material has been provided by InstaForex Company -
www.instaforex.com

Fatal error: Uncaught Exception: 12: REST API is deprecated for versions v2.1 and higher (12) thrown in /var/www/forex-winner.com/htdocs/wp-content/plugins/seo-facebook-comments/facebook/base_facebook.php on line 1039