Gold price is trading just above $1,400 and the critical short-term support of $1,393. Price made a double top rejection and reversal last week at $1,439 and we are now faced with a sideways moving market.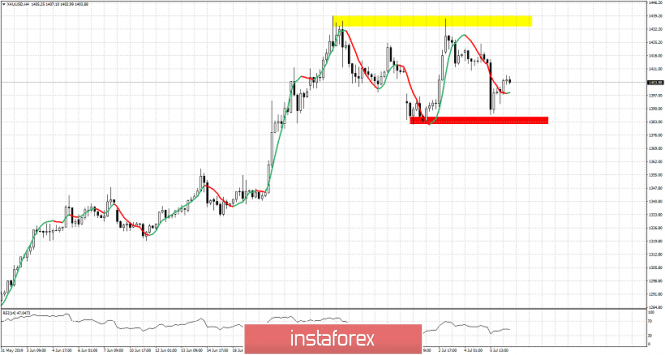 Yellow rectangle - resistance area
Red rectangle - support area
The two colored rectangles show the trading range Gold price is in. A break above $1,439 will open the way for a move towards $1,500-$1,525, while a break below support at $1,400-$1,393 will open the way for a move towards $1,335-$1,300. Until we see a break out of the trading range we remain neutral or position ourselves in favor of the closest level. So now that price is close to support, we prefer to be neutral or bullish with a stop reverse at $1,393. If price approaches $1,430-40 we will be neutral or bearish with stop reverse $1,440.
The material has been provided by InstaForex Company -
www.instaforex.com

Fatal error: Uncaught Exception: 12: REST API is deprecated for versions v2.1 and higher (12) thrown in /var/www/forex-winner.com/htdocs/wp-content/plugins/seo-facebook-comments/facebook/base_facebook.php on line 1039