Gold price continues to move inside the trading range of $1,750 and $1,670 since mid April. Price has no clear direction. We expect to get some signals if certain support or resistance levels break. Both bullish and bearish scenarios are still open. Medium-term trend remains bullish, but we lean more on the bearish scenario.
Red lines - trading range
Black lines - triangle pattern
Gold price is challenging the Ichimoku cloud support. So far this support has been respected. Breaking below $1,694 will be a bearish sign according to the Ichimoku indicator. At the same time price would have broken the lower triangle boundary. Another bearish sign. If price exits the trading range then we should expect more strength towards the same direction with the break out.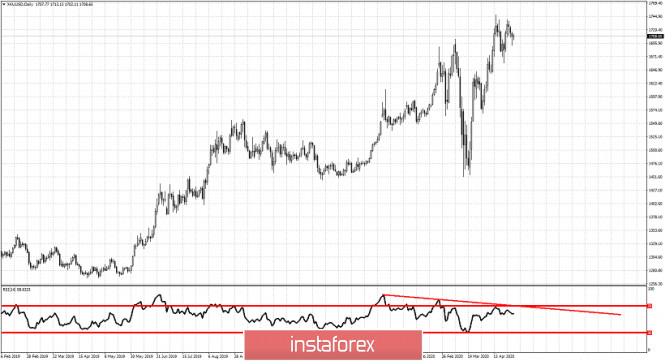 My view remains bearish mainly because of this bearish divergence. As long as the RSI is below the red trend line I prefer to be bearish. Trend remains bullish. There are some warning signs for a reversal but we have not seen a confirmed signal yet. Traders both bulls and bears need to be very cautious at current levels.The material has been provided by InstaForex Company -
www.instaforex.com

Fatal error: Uncaught Exception: 12: REST API is deprecated for versions v2.1 and higher (12) thrown in /var/www/forex-winner.com/htdocs/wp-content/plugins/seo-facebook-comments/facebook/base_facebook.php on line 1039