Gold price is trading above $1,900 again and is challenging important short-term resistance at $1,910-15 area. Gold bulls need to continue making higher highs and higher lows and in order to resume the up trend towards $1,955 and maybe higher.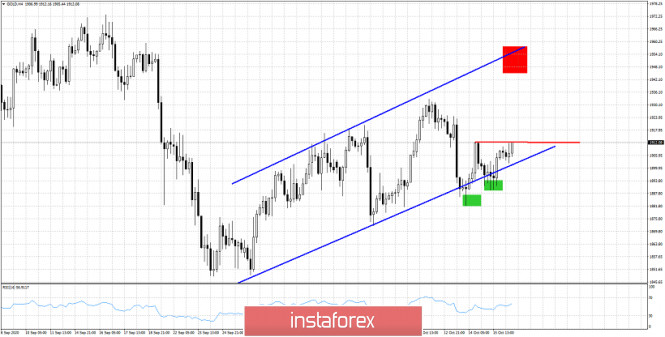 Blue lines - bullish channel
Green rectangles - higher lows
Red line - horizontal resistance
Red rectangle -target
Gold price target remains at $1,955 as long as price remains above the green rectangles. Bulls need to break above $1,910-15 on a daily basis and stay above this level in order to continue higher towards our target of $1,955. As long as price remains above $1,882 which was our stop from our latest trading plan, we remain optimistic. Breaking below $1,882 will cancel all short-term bullish scenarios.
The material has been provided by InstaForex Company -
www.instaforex.com

Fatal error: Uncaught Exception: 12: REST API is deprecated for versions v2.1 and higher (12) thrown in /var/www/forex-winner.com/htdocs/wp-content/plugins/seo-facebook-comments/facebook/base_facebook.php on line 1039