Gold price did not break below $1,455-50 support and is bouncing again higher towards $1.470. There are signs that point to further upside in Gold as price could reach the upper bearish channel boundary around $1,490.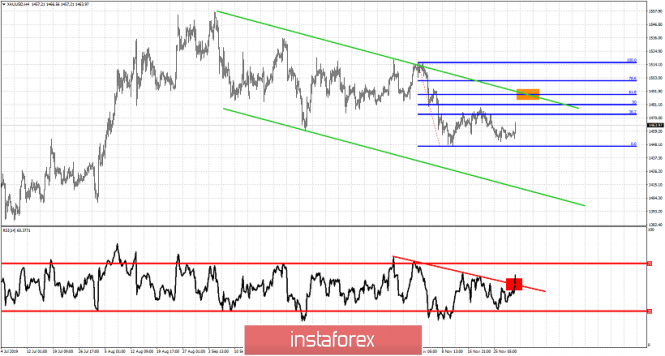 Green lines - bearish channel
Orange rectangle -short-term target
Red line -RSI resistance (broken)
Gold price is bouncing. The RSI has broken its resistance trend line. This is a bullish sign. Gold price could continue higher this week and eventually reach $1,490 and the 61.8% Fibonacci retracement level of the decline from $1,515. Since support at $1,450-55 was respected, we have to adjust our strategy as well. As long as price is above $1,450 we are short-term bullish looking for a move towards $1,490 and why not higher. Major resistance remains at $1,490-$1,500.
The material has been provided by InstaForex Company -
www.instaforex.com

Fatal error: Uncaught Exception: 12: REST API is deprecated for versions v2.1 and higher (12) thrown in /var/www/forex-winner.com/htdocs/wp-content/plugins/seo-facebook-comments/facebook/base_facebook.php on line 1039