The Gold did perfect test-reject of our yesterday's downward target $1.401 and it rallied all the way to the resistance at the price of $1.419. Since I found resistance levels at $1.419 and $1.4126, I would watch for selling opportunities. Logical downward objective is set at the price of $1.407.
Industry news:
The Consumer Price Index (CPI) rose 2.0% on a year-over-year basis in June, down from a 2.4% increase in May, largely due to lower month-over-month energy prices. Excluding energy, the CPI rose 2.6% year over year. Prices increased year over year in all eight major components.
On a seasonally adjusted monthly basis, the CPI declined 0.1% in June, following a 0.3% gain in May.
Technical view: .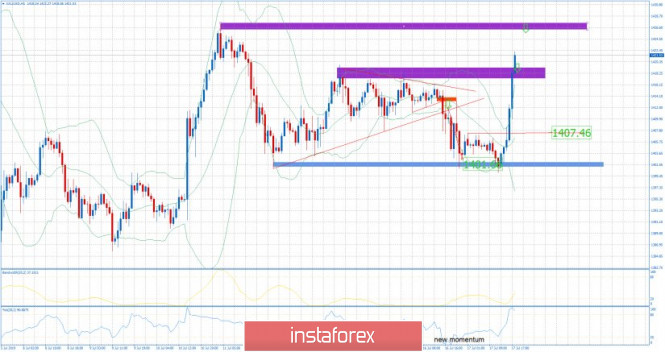 On the H1 time-frame I found that there is a strong up void spike, which is sign of the strong upward momentum. Anyway, since there is a resistance around $1.419, I would advise you to watch for selling opportunities. Watch for potential sell divergence on the oscillator to confirm potential down turn. Potential downward target is set at the price of $1.407.
The material has been provided by InstaForex Company -
www.instaforex.com

Fatal error: Uncaught Exception: 12: REST API is deprecated for versions v2.1 and higher (12) thrown in /var/www/forex-winner.com/htdocs/wp-content/plugins/seo-facebook-comments/facebook/base_facebook.php on line 1039