Industry news:
Prices remain well supported by fundamentals: the central bank of Poland said on Friday it had switched some $5 billion of its foreign reserves out of currency and into gold in June, adding to the list of active central bank buyers. However, short-term speculative buying appears to have eased off in the wake of the U.S. employment report.
In a session bereft of major economic reports in the U.S., Japan's core machinery orders fell by the most in eight months - another a worrying sign that global trade tensions are hitting corporate investment.
Trading recommendation: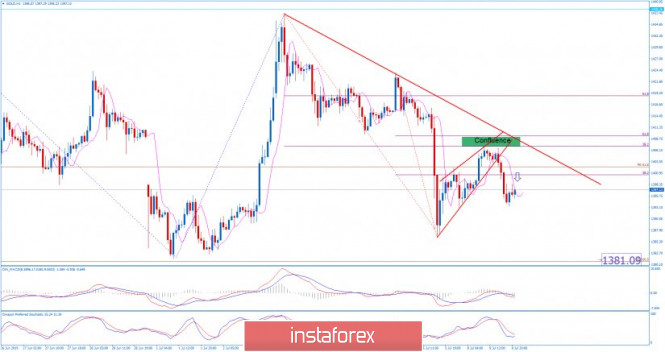 Gold has been trading sideways in past 24 hours. Light volume today and down break of the rising wedge on the 1H time-frame is clues that we got today. Important resistance is set at the price of $1.407. Watch for selling opportunities.
Green rectangle – Resistance 1 ($1.407) – Fibonacci confluence
Red lines- Broken rising wedge
Yellow rectangle – Support ($1.381)
Both MACD and Stochastic did flip down, which is confirmation that sellers are present. As long as the Gold is trading below the $1.407, I would like to watch for selling opportunities on the rallies. Downward target is set at the price of $1.381. The potential break of the resistance at $1.407 may lead us to $1.422.
The material has been provided by InstaForex Company -
www.instaforex.com

Fatal error: Uncaught Exception: 12: REST API is deprecated for versions v2.1 and higher (12) thrown in /var/www/forex-winner.com/htdocs/wp-content/plugins/seo-facebook-comments/facebook/base_facebook.php on line 1039