To open long positions on GBPUSD, you need:
Today's decision by the Bank of England to leave rates unchanged, as well as the volume of bond purchases, supported the British pound, which has been recovering its positions since the beginning of this week, after a major collapse to the lows of 1085. In the statements, the regulator focused on inflation and the decline in the economy in the 2nd quarter of this year, which is already clear. At this moment, the bulls are focused on the resistance of 1.2023, a break of which will provide a pair of comfortable growth in the area of high 1.2121, and then test the area of 1.2230, where I recommend taking the profit. If an unsuccessful attempt to break through 1.1991 in the second half of the day, it is best to look at long positions on a false breakout from the minimum of 1.1816, or open long positions immediately on a rebound from the support of 1.1647, from which yesterday the major players gained their positions.
To open short positions on GBPUSD, you need:
Sellers are still doing everything to prevent a breakout of the resistance of 1.2023, which I paid attention to this morning. The formation of a false breakout on it will be a direct signal to open short positions in the expectation of a repeated return of the pound to the lows of the day in the support area of 1.1816, where I recommend fixing the profits. It will be possible to talk about a break in the upward correction only after fixing below this range and breaking the lower border of the ascending channel with the support test of 1.1647. In the meantime, the bulls are coping with the task and update the daily maximum every day, which keeps the market on their side. In the scenario of growth above the resistance of 1.2023, it is best to look at short positions only after testing the maximum of 1.2121 or sell the pound immediately on a rebound from the area of 1.2230.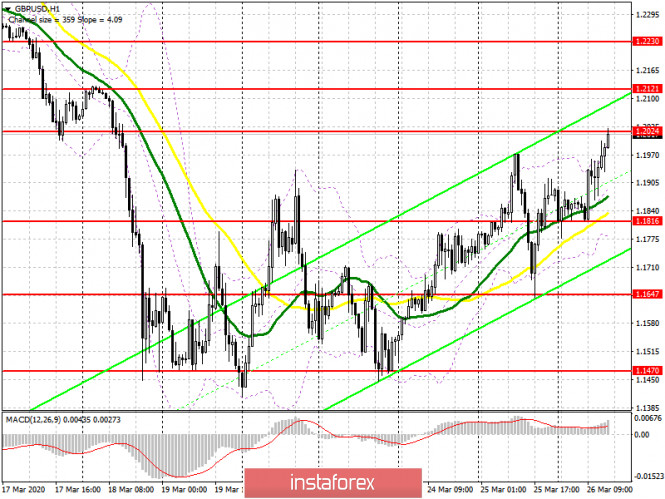 Signals of indicators:
Moving averages
Trading is conducted above the 30 and 50 daily averages, which indicates a high probability of continuing the upward trend.
Bollinger Bands
If the pair falls, the lower border of the indicator in the area of 1.1800 will provide support.
Description of indicators
Moving average (moving average determines the current trend by smoothing out volatility and noise). Period 50. The graph is marked in yellow.
Moving average (moving average determines the current trend by smoothing out volatility and noise). Period 30. The graph is marked in green.
MACD indicator (Moving Average Convergence / Divergence - moving average convergence / divergence) Fast EMA period 12. Slow EMA period 26. SMA period 9
Bollinger Bands (Bollinger Bands). Period 20
The material has been provided by InstaForex Company -
www.instaforex.com

Fatal error: Uncaught Exception: 12: REST API is deprecated for versions v2.1 and higher (12) thrown in /var/www/forex-winner.com/htdocs/wp-content/plugins/seo-facebook-comments/facebook/base_facebook.php on line 1039