To open long positions on GBP/USD you need:
The British pound again renewed its support near 1.2310 yesterday, however, the bears failed to take control of the market, and after the demolition of a number of stop orders by speculative players, the demand for the pound will return. At the moment, the task of buyers is to break through the same resistance of 1.2381, which limits the upward potential throughout the week. This will make it possible for the bull market to resume, the target of which will be the highs of 1.2427 and 1.2460, where I recommend taking profits. If the bears continue to put pressure on the pound, it is best to open new long positions after the formation of a false breakdown level of 1.2310, or it is best to buy a rebound in the region of a low of 1.2238.
To open short positions on GBP/USD you need:
Significant changes in the market are unlikely to occur in the morning. Sellers will wait for the publication of a report on US retail sales and, on its basis, will try to build a false breakdown in the resistance area of 1.2381, which will be the first signal to open short positions. However, the main goal is still the test and the breakdown of the support of 1.2310, which will lead to a larger sale of GBP/USD already in the region of lows 1.2238 and 1.2112, where I recommend taking profits. With larger growth in the morning, the pair can test a new high of 1.2427, from where it is possible to open short positions immediately for a rebound.
Signals of indicators:
Moving averages
Trade is conducted in the region of 30 and 50 moving average, which indicates some market uncertainty in the short term.
Bollinger bands
In case the pound declines, support will be provided by the lower boundary at 1.2305. A break of the upper boundary of the indicator in the area of 1.2370 may lead to a new wave of growth in the pair.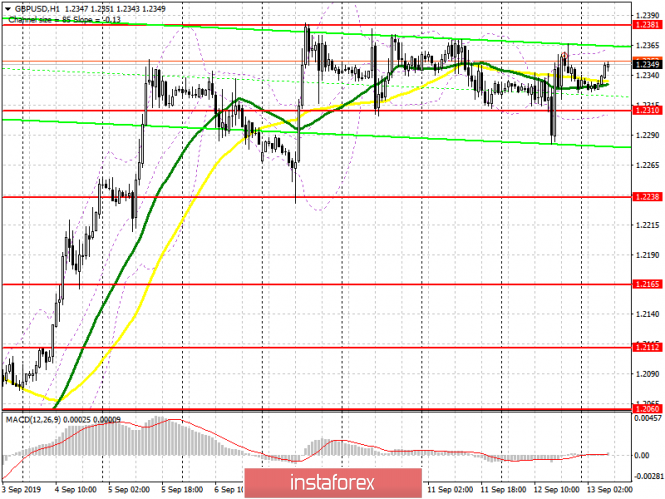 Description of indicators
MA (moving average) 50 days - yellow
MA (moving average) 30 days - green
MACD: Fast EMA 12, Slow EMA 26, SMA 9
Bollinger Bands 20
The material has been provided by InstaForex Company -
www.instaforex.com

Fatal error: Uncaught Exception: 12: REST API is deprecated for versions v2.1 and higher (12) thrown in /var/www/forex-winner.com/htdocs/wp-content/plugins/seo-facebook-comments/facebook/base_facebook.php on line 1039